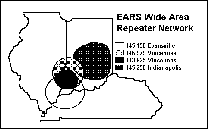 E.A.R.S.
1506 S. Parker Dr.
Evansville, IN 47714
(812) 479-5741


"Because a frequency..
..is a terrible thing to waste"


---
An ARRL Special Service Club KB9KBT/R Member Indiana Repeater Council

August, 1995 Newsletter



THE NEXT E.A.R.S. "EATING MEETING" will be at the Wendy's near St. Joseph and the Lloyd Expwy. in Evansville on Friday, August 4 at 6:30 p.m. Just grab something to eat, and then we're off to the studios of WFIE-TV. Jeff Lyons, KB9GMH, weather anchor and meteologist for WFIE Channel 14 (NBC) will give us a tour of the broadcast facility. And, Jeff tells me you can even try out your skills as a weather man! If you don't want to meet at Wendy's, feel free to join us at Channel 14 at 7:00 p.m. WFIE is located at 1115 Mt. Auburn Road. From the expressway, take St. Joe north to Bismark (at the Garden center, just past McDonalds), take a right, and go up the hill. Take a right at the stop sign at WIKY, then take the first drive to the left. We will meet Jeff in the lobby at 7:00 p.m. You won't want to miss this special meeting!



NOTE THE NEW E-MAIL addresses... Due to a change in the BBS software on my Internet connection, my e-mail address has been changed to: neilrapp@evsc.com. I also now have an account on America Online: NeilRapp@aolDOTcom. Articles (especially via e-mail) for the newsletter are appreciated!!!



REPEATER SYSTEM UPDATE:

145.110 - We finally found out that the poor 5.11 was hit by lightning. We will be getting the unit shortly and get it repaired and back on the air as soon as possible at the same location.

145.150 - Things seem to be going well on 5.15. We still have a problem picking up the Petersburg receiver, so it is off the air for the moment. PLEASE NOTE: Due to a programming mistake on my part, the code to access the time will be changing to 45*. Please change this on your code sheet!

145.25 - Things are still moving on the Indianapolis system. Receivers are being added as time permits.

Many thanks to Walt W8ENM for his assistance at the Freetown (Seymour) site (especially).

146.925 - The 146.925 was down due to the link being left on during on of those 120 heat index days. PLEASE turn the link OFF if it's not being used!!! The system overheated, and was off for several





hours. Otherwise, things seem to be going well.

443.925 - A new power supply and squelch circuit for the receiver was installed. This should cure some of the squelch problems in the past. The transmitter

was also retuned due to some other problems, and appears to be working fine.



THE INDIANAPOLIS LINK codes have been changed on 145.15 in Evansville due to an unidentified user turning the link off on several occasions. If you need the link between 6 a.m. and 6 p.m., please contact a control operator. Control ops: note the new codes handwriitten on this page.



IT WAS GOOD TO SEE SEVERAL OF YOU at the EARS booth at the Indianapolis hamfest and the Wabash Valley ARA meeting! Neil, WB9VPG, visited the WVARA in Terre Haute and gave a presentation on the EARS Network, as well as repeater operating practices, and even a little ARRL info. Neil and Marty, KA9PCT, were at the Indy hamfest on Saturday. Marty was also there on Sunday. We hope you stopped by! By the way, did you see that new EARS banner?



THE INDIANA REPEATER COUNCIL met on Saturday afternoon at the Indy hamfest. There were many items discussed, including a new proposed 440 band plan for study and comments. The new plan would increase the number of repeater pairs on the 70 cm band. If you would like to review this document, please see Neil or Marty. The council decided not to act on the recent MACC action to remove ATV from the 430 MHz band, as AMSAT and ATV operators met with the council two years ago and agreed on a band plan that would work for all. Therefore, ATV will continue to be coordinated in Indiana on 430 as there are no current problems here in Indiana that we are aware of. The 6 meter and 70 cm coordinators have resigned. Replacements will be named shortly. A new group of officers were installed at the meeting. Bill Wells WA8HSU of Logansport is the new chairman.





NOMINATIONS ARE NOW BEING ACCEPTED for three EARS awards to be given at the Evansville Hamfest in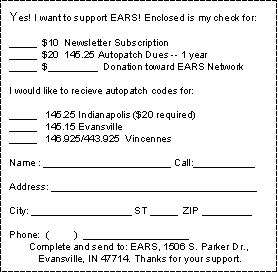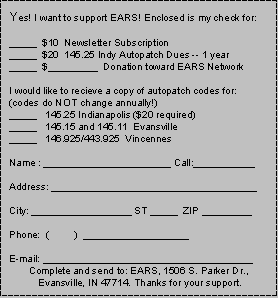 November! Send them to: EARS Award Committee, 1506 S. Parker Dr., Evansville, IN 47714-3154. Nominations will be taken thru November 1. All nominated persons must: 1) be a currently licensed Amateur and 2) have contributed to Amateur radio in the midwest. The three awards:
1) Advancement of Repeaters/FM/Networks
2) Technical Excellence Award
3) Repeater Courtesy/Operating Practice Award


UPCOMING HAMFESTS:
Indianapolis, IN September 2
Indy Armory (Holt Rd. & I-70)
(Hoosier Hamfest) - by E.A.R.S.!
Shawnee (Harrisburg, IL) Sunday September 10 - 7 a.m.-3 p.m. Admission $4. VE Exams at 9 a.m., Southeastern Illinois College
Bedford, IN Oct 8 Lawrence Co. Fgdns.
Louisville, KY Oct. 14-15 KY Fair & Expo Center
Evansville, IN November 25
Vanderburgh Co. 4-H Fairgrounds
Listen on 145.15 (107.2 PL) at hamfests!!


Congradulations to Brian Crasher, N9MNY, on his recent marriage! Brian and the new XYL reside in Chrisney, IN.


VE TESTING INFORMATION:
Terre Haute, IN - Sunday Aug. 6 - 1 p.m. Terre Haute Red Cross - Hwy. 41 North
(also see hamfests)


DREX STUART, N9CIA/HH5SX, will be returning to Haiti soon. He is looking for several 40-80 watt solar panels, batteries, and DC to AC power inverters. If you know of some at a low cost, please contact him or Neil ASAP!!!


DON'T FORGET THE E.A.R.S. WIDE AREA NET AND NEWSLINE....Every Monday at 8:30 Central on the EARS Repeater Network!


THE OLD POST ARS IN VINCENNES is holding a fish fry at Highland Woods in Vincennes on Sat., Aug. 19 from 4 to 7 p.m. All You Can Eat - $5. Your name will also be placed in a drawing for a 10 channel Uniden protable scanner. For tickets, contact Neil or any OPARS member.








Electronic Applications Radio Service, Inc.
E.A.R.S.
1506 S. Parker Dr.
Evansville, IN 47714














HELPFUL REPEATER TIPS OF THE MONTH!
Allow some time after the courtesy tone for people to break in with emergency traffic or need to make a quick call. This is especially difficult when going through links. Don't break in on a conversation unless 1) you have emergency traffic; 2) you need to make a quick call; or 3) you have information that would be directly helpful to the conversation. Wait until the station you wish to talk to has cleared. Don't interrupt a QSO just to say hello! Your cooperation would be GREATLY appreciated.
BE SURE TO IDENTIFY WHEN USING ANY TOUCH TONE FUNCTION ON THE REPEATER!!!!!! (autopatch, link, etc.)


THE E.A.R.S. NEWSLETTER is a monthly production of Electronic Applications Radio Service, Inc., a non-profit, charitable, tax-exempt organization. Neil Rapp, WB9VPG, editor. Send donations, articles, comments or information to E.A.R.S. at the address at the address below or call (812) 479-5741. E-mail can be sent via Internet to neilrapp @evsc.com, or via AOL at NeilRapp@aolDOTcom. For the braille edition, contact Tom KE9ZV.