Electronic Applications Radio Service
W9EAR
c/o 1506 S. Parker Drive, Evansville, IN 47714-3154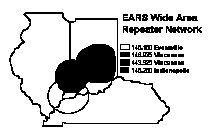 (812) 479-5741 http://members.aol.com/EARSham

E-mail: EARSham@aolDOTcom

An ARRL Special Service Affiliated Club

Member

Indiana Repeater Council, Illinois Repeater Council, and Indiana Radio Club Council

"Because a frequency is a terrible thing to waste"

Fall, 1999 Newsletter

THANKS to those who donated to EARS recently, including: Tom Dick WA9QDZ and Ruel Burns K9WHE. Your support keeps EARS going!

THE NEXT E.A.R.S. EATING MEETING will be at Golden Corral, Lloyd Expwy. and Red Bank Road, on Friday November 26 at 5:00 pm. Setup at the hamfest will follow after the meeting.

THIS YEAR'S HAMFEST GEARING UP… Teaming up with The Ham Station for the second year, we are proud to announce the 7th annual Evansville Winter Hamfest. We're back in the auditorium this year. Enclosed is a flyer, and more information is available at the web site. Please spread the word!!! Meet the Icom reps at the Icom Forum, which will be held at 11 am CT.

WE NEED WORKERS!

We need some help to make the hamfest work! We need volunteers to help vendors unload on Friday evening from 7 to 9 pm, and Saturday morning from 6 to 7:30 am. We need people to help with selling tickets, signs, talk-in, and security from 7:30 am to 1 pm, and clean up/vendor loading after the hamfest. If you can help, even just for an hour, contact Neil at 479-5741 or by radio or by email. A big thank you once again to the Old Post ARS from Vincennes for operating the food booth this year.

REPEATER NEWS... for the latest information, check the EARS web site.

145.11... The duplexers have returned, and the repeater has been on in short-range testing mode. Once it has been retuned, it should be back on in a permanent setting.

145.15... We have the software backed up and ready to go for the controller upgrade, and have remote receive sites going. We'll be working soon on getting the voter back in line for multiple receivers.

146.925/443.925 We've finally been able to get rid of our interference problems from the antenna and the paging transmitter in Illinois. We sent a tower climber up to the antenna to check it out, and apparently there is something wrong with the phasing harness. We have a new 8 loop dipole array that will be going up in the next couple of weeks for 443.925 at Vincennes. Watch for a jump in coverage. While we're taking down 16 loops, these 8 should work, unlike the 16 that are coming down. The OPARS group also had a climber look at the situation with the 146.67 receive antenna on the same trip. They found the antenna was in bad shape, and the standoff bracket was nearly gone. They have replaced the bracket and the antenna, but this antenna is even worse. A new antenna has been ordered, and will go up at the same time as the 443.925 antenna. Since we share this antenna with OPARS to receive from Vincennes for 146.925, watch for coverage to jump on 2m as well.

145.25... 145.25 is back on the air from a new location. Most of the tower work for the new antennas, feed lines, etc. Is complete. The transmit site is now near Lebanon, directionalized south. The receive site is in the downtown Indianapolis area. More work, equipment, and details to come.

UPCOMING HAMFESTS/GATHERINGS:
Saturday, November 13 and Sunday, November 14 Indiana State Convention & Hamfest, Fort Wayne Tickets available, call Neil

Saturday, November 27, 8 am - 2 pm CT Evansville, IN 4-H Fairgrounds Expo Bldg. Talk in on EARS Network! http://members.aol.com/earsham
Because of a drop in interest of meetings, the frequency of eating meetings has been reduced.

The newsletter frequency has also been reduced to note the change. More frequent updates are available on the EARS Web Site at

http://members.aol.com/earsham, and on the EARS E-mail list. To subscribe to the e-mail newsletter updates, contact Neil at neilrapp@insightbb.com.

VE TESTING INFORMATION:

EARS does not offer testing, but does list area testing dates and times. If you know of a test not listed, please write, call, or e-mail Neil WB9VPG ASAP!!!
Evansville, IN - Sat. Oct. 30 and Dec. 4; 9:00 a.m.... Red Cross Bldg., Diamond and Heidelbach, by Tri-State ARS. ARRL-VEC. Contact Terry AA9MM
tbrooks@sigecomDOTnet
Paris, IL - Due to lack of interest, all tests scheduled in Paris, IL have been CANCELLED.
Terre Haute, IN - 1st Sunday of EVEN numbered months at 1pm at the Terre Haute Red Cross on Hwy 41 North. Call Fred K9EBK at (812) 466-2122.
Greencastle, IN - 3rd Sat. of ODD numbered months, 1 pm EST. Contact Jim AA9FY.
Danville, IL - 1st Sunday of even months at VA hospital at 1pm Central time. Contact John Welch AA9JE.
Indianapolis, IN - IPL, 37th and Arlington, at 6:30 p.m. BY APPT. ONLY. Call Tom N9LFU at 317-326-3168. Thomson ARC/ARRL-VEC
Franklin, IN - Walk-ins only. For more information, call 317-974-1488. MidState ARC (3rd Sat. March thru November)
PETERSBURG NEWS... The 145.45 took a severe lightning hit a month or so ago, and took out nearly the entire system, as well as the 442.75. Mike has made some new purchases to replace the equipment, and is back on the air using backup equipment. Part of the new equipment includes a controller with weather data, such as temperature, wind speed and direction, etc. It should be pretty neat once it's all back together.
THE HARRISON HIGH SCHOOL ARC just got a new dual band Kenwood TM-V7A. This will be available to students and faculty, and for emergencies.
The E.A.R.S. newsletter is a monthly production of Electronic Applications Radio Service, Inc., a non-profit, tax-exempt organization. Neil Rapp, WB9VPG, editor. Send donations, articles, comments or information to the address above or call (812) 479-5741. Articles for the newsletter and/or E-mail can be sent to EARSHAM @aolDOTcom. Information contained may be reproduced, provided that credit is given to the EARS newsletter.
MCARS News...
Visit MCARS at
http://www.bromac.com/mcars
145.25 update
(Article not available from MCARS at press time...)