10th Anniversary Evansville, Indiana Hamfest
November 30, 2002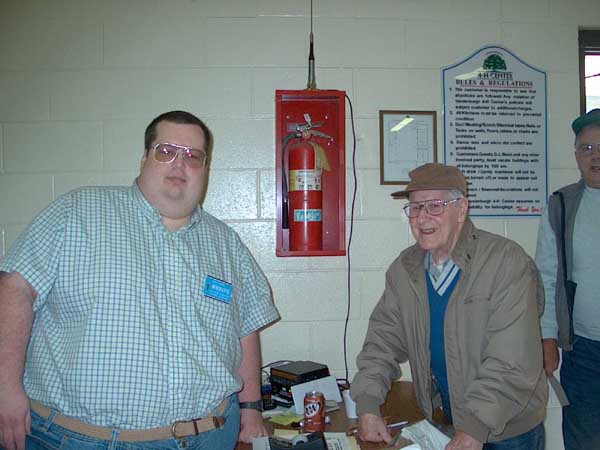 Neil Rapp WB9VPG (left) is pictured here at the talk-in station with Bryce Anderson, W9PNE of Lancaster, IL. Bryce (age 84) is one of the longest licensed hams in the United States (since 1931) and QCWA member. Neil is the world's youngest QCWA member (current age 32, first joined at age 29). Bryce's expertise is making antennas.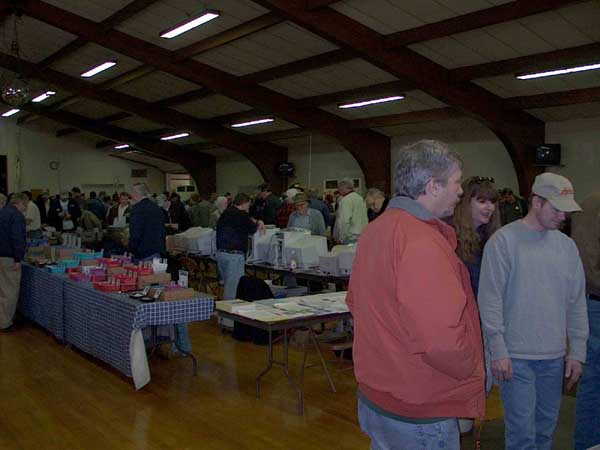 The aisles were a little crowded as a record 565 people attended this year's hamfest.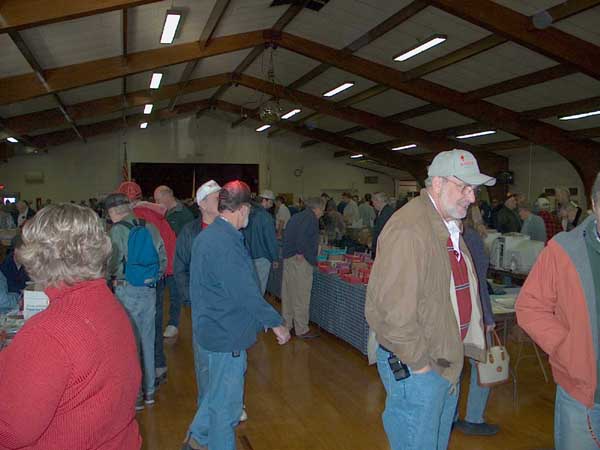 Over 80 tables of vendors and flea market space kept everyone busy buying up great deals, including John N9YRX (on the right).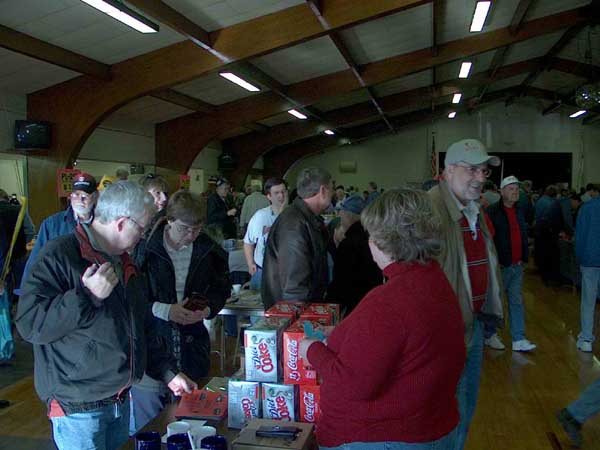 Amy Bonham (XYL-N9KDB) takes care of awarding over 25 door prizes, including this year's grand prize, an Icom IC-T2H from the Ham Station, which was won by Dean Elkins K4ADJ of Henderson, KY.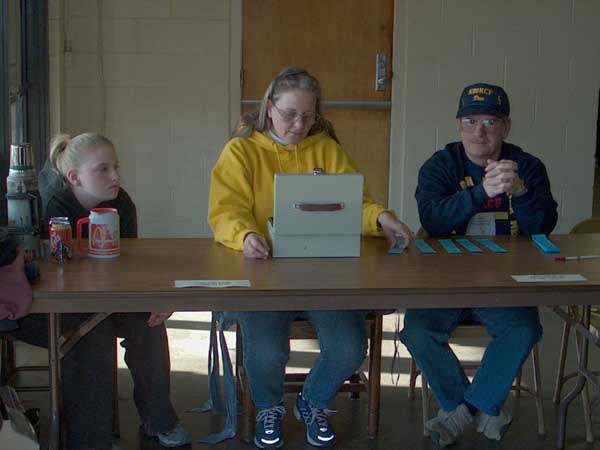 Our faithful crew, the Roush family, takes care of the tickets and signs once again. Becky (left) draws out the tickets for door prizes. Debby (center) sells tickets and puts all those labels on over 3500 hamfest flyers each year. Dan KB9KCF takes care of a little bit of everything, from moving tables to sorting tickets, as shown here.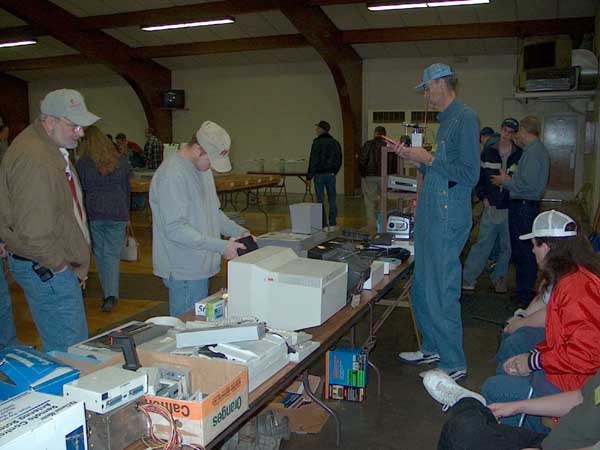 Here is the Amateur TV crew from Mt. Vernon, IL selling some used equipment.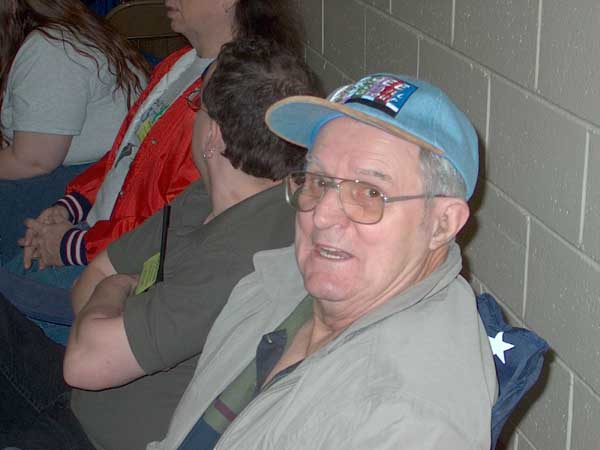 Neil's uncle Ed AA9EE poses for the camera. Next to him is Neil's cousin Doug, KA9JJS. He's a part of the ATV group from Mt. Vernon, IL. Doug is working on the 147.18+ repeater in Mt. Vernon which we hope to link into the EARS system.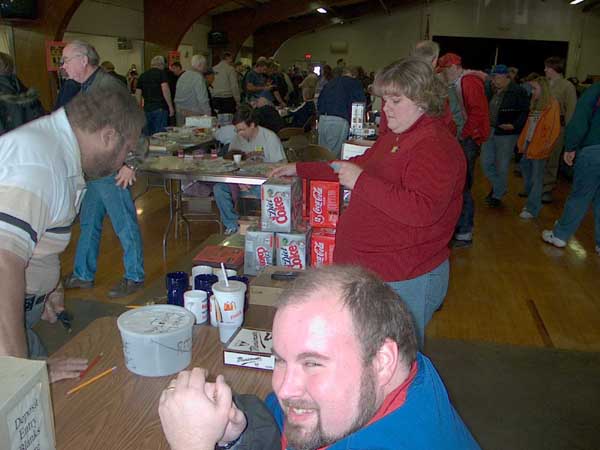 Everyone needs a trusty sidekick. Here is Eric N9KDB keeping an eye on hamfest operations. We missed him the last two years because of his work schedule at WTHR-TV in Indianapolis. His wife, Amy, was also a big help this year with the door prizes and preparing the tickets.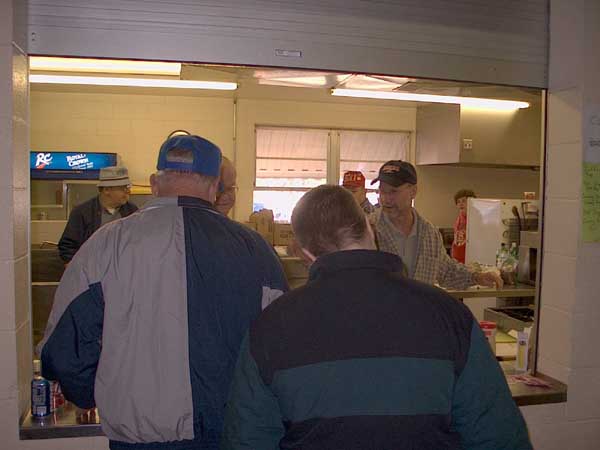 And last, but certainly not least, here is the group from the Old Post ARS in Vincennes. They have served up every single hamburger since this all began 10 years ago. We couldn't do it without them! Here, Jim KA9CQX and Ray N9QEI serve some hungry folks, while Mac K9ZKX and Mary N9TQV work the kitchen.
---
John N9YRX sent us these pictures also: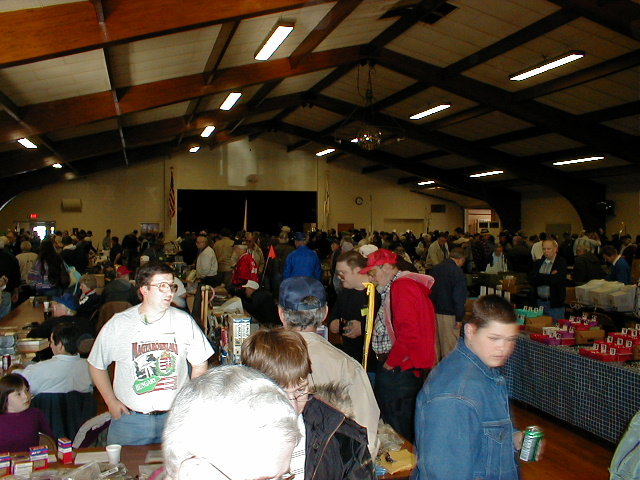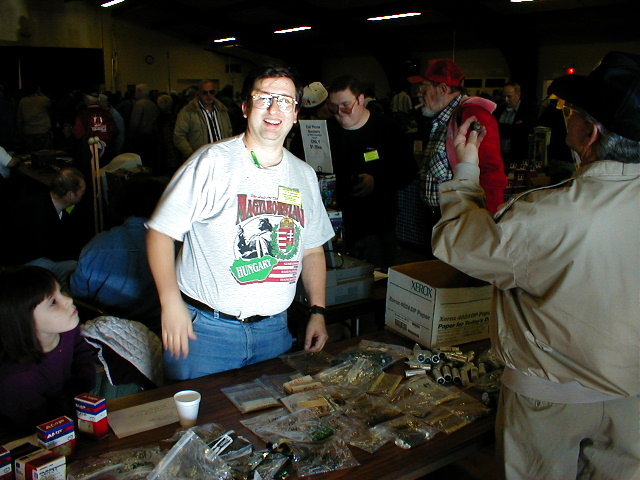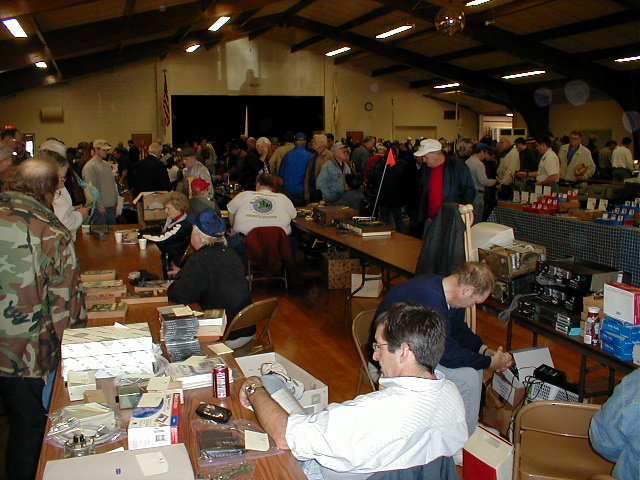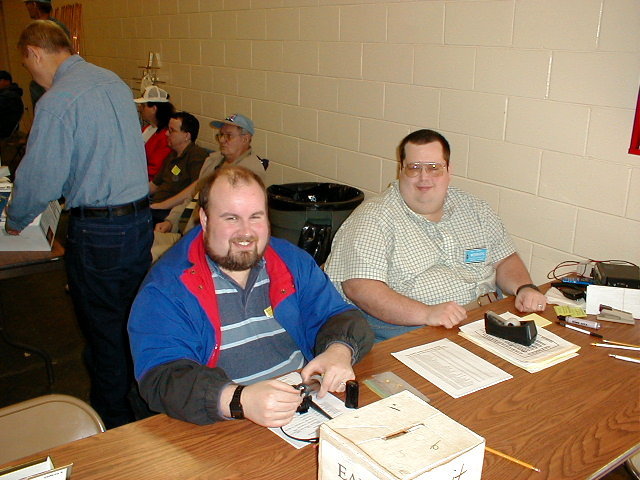 ---
Everyone had a great time. We hope you can make it to next year's Evansville Hamfest, which will be on Saturday, November 29, 2003. Thanks so much to all those who made this year's hamfest a great success! Thanks in particular to: MFJ, HamTestOnline.Com, The Ham Station, Icom, Wal-Mart, Kenwood USA, and ARRL for donating door prizes. Thanks to Keith KB9WAC, Terry WB9QKF, Bob WB9QAW, and Jerry WB9ONU for working security. Thanks to Bob AA9VW, who was in charge of VE testing, and examiners John K9IQ, Bob WB9QAW, Terry WB9QKF, and Jerry WB9ONU. Thanks to Lyndon K9EZL, Mary N9TQV, Mac K9ZKX, Ray N9QEI, Jim KA9CQX, and Steve NO9N for working in the kitchen. Thanks to Dan KB9KCF, Debby, and Becky; Barry KE4OXZ, Eric N9KDB and Amy for making things run smoothly once again from start to finish. Thanks to Dan N9APA and The Ham Station for corporate sponsorship. Thanks to all the vendors, especially Scott from Tower Electronics, Don from DC ACE, and Col. Russell who have been with us since the beginning. And, our apologies to anyone we may have missed. We couldn't do it without you!