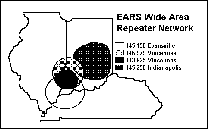 E.A.R.S.
1506 S. Parker Dr.
Evansville, IN 47714
(812) 479-5741


"Because a frequency..
..is a terrible thing to waste"


---
An ARRL Special Service Club W9EAR Member Indiana Repeater Council
January, 1997 Newsletter


THE NEXT E.A.R.S. EATING MEETING will be held be at Old Country Buffet on Thursday, January 16 at 6:30 p.m.


REPEATER NEWS... Repairs continue on 146.925, 443.925, and 145.15. All are operating at low power, and 145.15 has been off for a week. Warranty repairs are still being made on 145.11. 147.18 in Mt. Vernon, IL should be on soon. Remember to use 107.2 tone encode on the EARS repeaters. ALL EARS REPEATERS ARE STILL OPEN FOR USE BY ALL AMATEURS WHO FOLLOW PROPER RULES AND OPERATING PROCEDURES.


HAVE YOU HEARD THE NEW EARS CALLSIGN YET? It finally arrived on December 4. It's W9EAR.


VISIT THE E.A.R.S. WORLD WIDE WEB PAGE! http://members.aol.com/earsham/
You can write to us on the Internet as well! Our e-mail address: EARSHAM@aolDOTcom


UPCOMING HAMFESTS:


Rockford, IL July 26, 1997 Winnebago Co. Fairgrounds, Pecatonica IL Talk in 146.61, 114.8 CTCSS


Dayton, OH Hamvention May 16. 17, and 18
Hara Arena


Evansville, IN November 29, 1997 Vanderburgh Co. Fairgrounds 8 a.m. - 2 p.m. Central time. Admission $5. Wall tables - $10, Flea Market tables - $7. Talk in on 145.15.








VE TESTING INFORMATION:
EARS does not sponsor VE testing, but does advertise area testing dates and times. If you know of a test not listed, please write, call, or e-mail it to Neil ASAP!!!


Paris, IL - Sundays at 1pm at the Community
Hospital on Jan. 5 and Mar. 2 - Call John
Welch at (217) 466-4315.


Danville, IL - VCARA Club House Call John
Welch at (217) 466-4315 for more information.
For directions - (217) 442-3916.


Terre Haute, IN - Sundays at 1pm at the Terre
Haute Red Cross on Hwy 41 North on Feb 2
and Apr 6. Call Fred K9EBK at (812)
466-2122


Indianapolis, IN - IPL, 37th and Arlington, at
6:30 p.m. BY APPOINTMENT ONLY. Call
Tom N9LFU at 317-326-3168. Thomson
ARC/ARRL-VEC


Franklin, IN - Walk-ins only. For more
information, call 317-974-1488. MidState
ARC (3rd Sat. March thru November)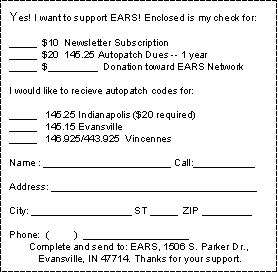 Electronic Applications Radio Service, Inc.
E.A.R.S.
1506 S. Parker Dr.
Evansville, IN 47714-3154
















































































---
DON'T MISS THE EARS WIDE AREA NET AND NEWSLINE... MONDAYS AT
---
8:30 P.M. CDT (9:30 EST)
The E.A.R.S. newsletter is a monthly production of Electronic Applications Radio Service, Inc., a non-profit, charitable, tax-exempt organization. Neil Rapp, WB9VPG, editor. Send donations, articles, comments or information to E.A.R.S. at the address above or call (812) 479-5741. Articles for the newsletter and/or E-mail can be sent to EARSHAM@aolDOTcom. Information contained may be reproduced in any form, provided that credit is given to the EARS Newsletter.




















.










































to the E.A.R.S. Newsletter.