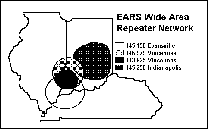 E.A.R.S.
1506 S. Parker Dr.
Evansville, IN 47714
(812) 479-5741


"Because a frequency..
..is a terrible thing to waste"


---
An ARRL Special Service Club W9EAR Member Indiana Repeater Council
June, 1997 Newsletter


THE NEXT E.A.R.S. EATING MEETING will be held be at Sirloin Stockade, on Bellemeade near Green River Rd. on Friday, June 6 at 6:30 p.m.


REPEATER NEWS... Repairs continue... The new Link controller with DVR has arrived for the 443.925, as well as the new repeater. 146.925's main transmitter in Paxton was repeaired, and three weeks later the tube shorted, so we're back at low power again. Progress has been made on the "missing" 145.11. The link from 443.925 to 145.25 is not working due to low power at Vincennes, and a malfunctioning PL encoder. Remember to use 107.2 tone encode on the EARS repeaters. ALL EARS REPEATERS ARE STILL OPEN FOR USE BY ALL AMATEURS WHO FOLLOW PROPER RULES AND OPERATING PROCEDURES.


WE HAD A GREAT TURNOUT last month at Sirloin Stockade for the eating meeting. We hope to see you all there again this month!! (Sorry the May newsletter didn't get out)


VISIT THE E.A.R.S. WORLD WIDE WEB PAGE! http://members.aol.com/earsham/
You can write to us on the Internet as well! Our e-mail address: EARSHAM@aolDOTcom


UPCOMING HAMFESTS:
Indianapolis, IN Sat & Sun July 12-13 Marion Co. Fairgrounds. Talk in 146.76-. http://www.indyhamfest.com Web Site
Rockford, IL July 26, 1997 Winnebago Co. Fairgrounds, Pecatonica IL Talk in 146.61, 114.8 CTCSS






Peotone, IL Sun. Aug. 3 Old-Fashioned Hamfest Will Co. Fairgrounds. Talk in on 146.64- (107.2) or 146.94- First to contact Neil wins 1 free ticket!
Jackson, MI Sun. Aug. 10 Jackson Community College. Talk in 146.88-. First to contact Neil regarding this hamfest gets 2 free tickets!
Louisville, KY Sat & Sun Sept. 6-7 Kentucky Fair & Expo Center. Talk in 146.88-. Email:
WD4IXL@juno.com
Evansville, IN November 29, 1997 Vanderburgh Co. Fairgrounds 8 a.m. - 2 p.m.
Central time. Admission $5. Wall tables - $10, Flea Market tables - $7. Talk in on 145.15.


VE TESTING INFORMATION:
EARS does not sponsor VE testing, but does advertise area testing dates and times. If you know of a test not listed, please write, call, or e-mail it to Neil ASAP!!!


Evansville, IN - Tue May 27 at Harrison H.S. CANCELLED.


Evansville, IN - Saturdays at 9 a.m. Central on: Jun 21, Jul 26, Aug 30, Sep 27, Nov 8, and Dec 20. at the Red Cross Bldg., Diamond and Heidelbach, by Tri-State ARS. $6.25/ARRL-VEC. Contact Terry AA9MM.


Paris, IL - Sundays at 1pm at the Community Hospital on July 6, Sept. 7, and Nov. 2 - Call John Welch at (217) 466-4315 or
email jwwelch@juno.com.


Terre Haute, IN - Sundays at 1pm at the Terre Haute Red Cross on Hwy 41 North on June 1, Aug 3, and Oct. 5. Call Fred K9EBK at (812) 466-2122.


Indianapolis, IN - IPL, 37th and Arlington, at
6:30 p.m. BY APPOINTMENT ONLY. Call
Tom N9LFU at 317-326-3168. Thomson
ARC/ARRL-VEC


Franklin, IN - Walk-ins only. For more
information, call 317-974-1488. MidState
ARC (3rd Sat. March thru November)


THANKS TO ALL THOSE who have graciously donated to EARS recently. They include: Tony Roark AA9MM and Richard Owens K9OFG. Your support keeps EARS running!


EARS Financial Report - 1996


Total assets: Jan 1, 1996 $2171.11
Expenses:
Hamfest -2598.18
Newsletter -610.32
Repeater Expenses (rents, phone lines, insurance, equipment) - Vincennes & Evansville -1028.74
Repeater Expenses - (insurance included above) Indianapolis -1300.00
Total Expenses: -5537.24
Income:
Donations +1129.03
Hamfest +2685.00
Total Income: +3814.03
Gross Loss: $1723.21


Personal Donations/KA9PCT -1000.00
Net Loss: $723.21
On Hand 5/26/97: $464.91


THE EMA OFFICE of Evansville-Vanderburgh Co. recently sent out a notice that Norm King, W9AU (ex-AA9CG) has been named RACES officer. A state RACES newsletter was enclosed. If you are not registered with RACES, and are interested in assisting with communications during emergencies, contact the EMA office at 435-6020. They also need volunteers to check warning sirens on Fridays during the summer. If interested, call Jane at the EMA office. If you have moved and not updated your information, please call with that information as well.


As many of you are aware by now, I will be marrying Amy Dimsdale next month (No, she hasn't taken her test yet, but she is studying!). I would like to invite everyone to the wedding at Calvary Baptist Church in Winter Haven, FL on June 14 at 7 pm ET. If you can't make it to Florida, a reception will be held at Wheatland Christian Church, Wheatland, IN on Saturday, June 28 at 2 pm. If you need directions, let me know! Because of the wedding, there will be a delay in the July newsletter.


BY RECOMMENDATION, I am working on posting donation information on our web site. Due to postal regulations, we deleted the information from the bottom of the mailing label. This month we are placing the last recorded donation you have made on the TOP of the mailing label. I'm also looking for a converter for WordPerfect 6 for DOS documents to HTML so newsletters can be read directly online. I found one on the web, but the site always seems to be missing. If anyone has this converter, please send a copy. Thanks!


THE NEXT MEETING of the Indiana Repeater Council, the coordinator for Indiana repeaters, will be held on Saturday July 12 at 1 pm in the forum building. As always, your input is requested.


A CROSS-COUNTRY BICYCLE TOUR will be going through Indianapolis July 22 and 23 from Valparaiso, thru Indianapolis, and Richmond. The 145.25 repeater will be used for making contact with the tour coordinators during emergencies only. Please make way for emergency communications especially during these dates. Ollie AA9MG will be assisting.


THE HARRISON HIGH SCHOOL ARC club station, WA9HHS, is progressing. Bill WD9AOR of Petersburg donated an FT-301R, and I was able to obtain a grant from PBA funds for an HF antenna, tuner, and 10 study guides. We have a few students and a few faculty in the program. For more information, see our web site on the Harrison H.S. Home Page, which can be accessed thru: www.evsc.k12.in.us, the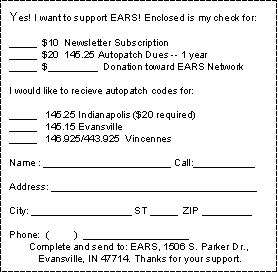 Electronic Applications Radio Service, Inc.
E.A.R.S.
1506 S. Parker Dr.
Evansville, IN 47714-3154


















Evansville-Vanderburgh School Corp. server.


---
DON'T MISS NEWSLINE... THE EARS WIDE AREA NET MEETS MONDAYS AT 8:30 PM CENTRAL ON THE
---
W9EAR REPEATER
---
NETWORK!
The E.A.R.S. newsletter is a monthly production of Electronic Applications Radio Service, Inc., a non-profit, tax-exempt organization. Neil Rapp, WB9VPG, editor. Send donations, articles, comments or information to the address above or call (812) 479-5741. Articles for the newsletter and/or E-mail can be sent to EARSHAM @aolDOTcom. Information contained may be reproduced, provided that credit is given to the EARS Newsletter. Visit our site on the World Wide Web at http://members.aol.com/earsham.