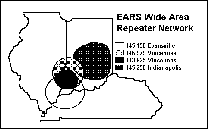 E.A.R.S.
1506 S. Parker Dr.
Evansville, IN 47714
(812) 479-5741
"Because a frequency..
..is a terrible thing to waste"
An ARRL Special Service Club
Member Indiana Repeater Council, Illinois Repeater Association, and Indiana Radio Club Council
---
W9EAR June, 1998 Newsletter W9EAR
THE NEXT E.A.R.S. EATING MEETING will be held at Old Country Buffet, in Eastland Shoppes near Morgan and Green River Road in Evansville, on Friday, June 4 at 6:30 p.m.
HARRISON H.S. ARC is seeking the donation of a dual band mobile and power supply for its club station. When not in use, this could also double as a remote receiver for 145.15. Contact Neil.
REPEATER NEWS... for the latest information, check the EARS web site.
145.11... We removed 145.11 from it's original site, and am working on getting it on the air here at home until the bugs are worked out.
145.15... The spectrum board isn't working, but Eric N9KDB wired up an Azden mobile unit to suffice for now. At least we're back on the air!! The new receive site (at the old 5.11 site just into Posey Co.) is up and running. The new amplifier should be installed soon.
443.925... The only thing not working is the Indianapolis link to 5.25, which still requires work at Seymour.
146.925... Eric sent the new Icom radio back after discussing the extra squelch tail with the Icom reps at Dayton. The old transmitter is back on for now, which means the audio is not as good as before, but still OK. The new transmitter will be put back as soon as it comes back from repair. Amazingly enough, the air conditioning at the site is actually working for now... While the new radio is removed, 107.2 CTCSS decode will not be available.
145.25... Will provide news as it arrives from Indy.
147.135... still operating with an input of 144.65 from near Seymour. There is apparently a problem with the UHF link from Seymour back to Indianapolis forthe receive site there.
UPCOMING HAMFESTS:
We received an invitation from the Tri-State ARS (TARS) in Evansville to their "Tailgate Party" on Sat., June 13 at Wesselman Park in Evansville (just behind Roberts Stadium). Admission is free, as well as free hamburgers and hot dogs starting around 11 am, rain or shine. Talk in on 147.15.
VE TESTING INFORMATION:
EARS does not sponsor VE testing, but does list area testing dates and times. If you know of a test not listed, please write, call, or e-mail it to Neil ASAP!!!
Evansville, IN - Sat. May 23, and June 20; 9:00 a.m.... Red Cross Bldg., Diamond and Heidelbach, by Tri-State ARS. ARRL-VEC. Contact Terry AA9MM (tbrooks@ evansville.net).
Paris, IL - Sunday at 1pm at the Community Hospital on July 5. Call John Welch at (217) 466-4315 or email jwwelch@juno.com.
Terre Haute, IN - Sunday at 1pm on June 7, and Aug. 2 at the Terre Haute Red Cross on Hwy 41 North. Call Fred K9EBK at (812) 466-2122.
Indianapolis, IN - IPL, 37th and Arlington, at 6:30 p.m. BY APPT. ONLY. Call Tom N9LFU at 317-326-3168. Thomson ARC/ARRL-VEC
Franklin, IN - Walk-ins only. For more information, call 317-974-1488. MidState ARC (3rd Sat. March thru November)
DON'T FORGET FIELD DAY is June 27-28. Be sure to get in on the fun with your local club or group!
SPECIAL EVENT STATION... K9K will operate from the Mt. Carmel IL Airport Appreciation Day on May 30.
HAVE YOU FILED FORM 606 (TIN registration)? The FCC now requires all existing license holders to file this form as soon as possible. "The form must be submitted before the license holder files any subsequent applications associated with the existing license", according to the directions on the form. Basically, your taxpayer identification number (TIN) is associated with your license on this form. Other info includes, name, address, phone, e-mail address if any, and any/all callsigns. You can either fill out the form by hand or electronically on the FCC web site. For assistance with this application, call 1-888-CALL-FCC, or check out the FCC web site at www.fcc.gov.
WE NEED YOUR HELP! With all the recent renovations of the 443.925, 146.925, 145.150, and 145.110 repeaters in the past few months, the EARS bank account is nearly depleted. The last donation should be shown on your address label. If you haven't donated in a while, now is your chance. We continue to offer all repeater and autopatch services free of charge to all amateurs, and will continue to do so as long as the bills are paid. Also, we thank the great number of those who have contributed recently, most recently Hank DalleAve WB9UWJ, and Dennis Hubble KB9JXF.
NEWSLINE NEEDS YOUR HELP TOO! As you may have heard on Newsline a few weeks ago, Newsline is again in severe financial difficulty. Each year, EARS takes a donation at at the hamfest, and adds to it. But, if you would like to make a personal donation, send it to the Newsline Support Fund c/o Andy Jerima N6TCQ, PO Box 660937, Arcadia, CA 91066.
ANOTHER THREAT TO THE HAM BANDS... now the 440 band has been requested for primary use by land mobile communications. The deadline for comments is June 1. For more info, check out www.arrl.org/news/bandthreat. Write right now!!!
DON'T MISS NEWSLINE... THE EARS WIDE AREA NET MEETS MONDAYS AT 8:30 PM CENTRAL ON THE W9EAR REPEATER NETWORK!
---
The E.A.R.S. newsletter is a monthly production of Electronic Applications Radio Service, Inc., a non-profit, tax-exempt organization. Neil Rapp, WB9VPG, editor. Send donations, articles, comments or information to the address above or call (812) 479-5741. Articles for the newsletter and/or E-mail can be sent to EARSHAM @aolDOTcom. Information contained may be reproduced, provided that credit is given to the EARS Newsletter.