E.A.R.S.

1506 S. Parker Drive
Evansville, IN 47714
(812) 479-5741


"Because a frequency is a terrible thing to waste"


March, 1994 Newsletter
The next EARS "Eating Meeting" will be held on Friday, March 11, at Noble Roman's Ross Center Location, near Washington and Boeke in Evansville. Meeting time is 6:30 (Central). See all your ham friends and enjoy a night out! Don't miss it!
Next Meeting: Fri., April 1.
Same place, same time.


THE 443.925 Vincennes repeater is now online! The transmitter has been running for some time now, but the receiver was installed on February 14. The repeater is duplexing on an antenna at 400 feet on the Vincennes Univsesity broadcasting tower, home of the 146.925 receiver. Output power is about 43 watts. The repeater is linked with 146.925 and 145.15. Autopatch and DVR codes for 146.925 are therefore available on 443.925 as well. The Terre Haute area remote receiver for 146.925 will be in the test mode at press time. This will be permanent soon. 443.925 preliminary signal reports include handheld from Bridgeport, IL, Washington, IN, Sullivan, IN and Princeton, IN. Mobile coverage includes Evansville, IN, Terre Haute, IN, and Newton, IL.


NEWS FLASH!! The FCC has announced that ONLY the November 1993 version of Form 610 will be allowed after March 1. All 610s sent in to the FCC or used at test sites effective immediately MUST be on the NEW form 610!


HamVention calendar:
April 29-May 1 Dayton, OH
Hara Arena, Admission $11
(in advance) $14 (at door)
ARRL/VEC testing available
(513) 276-6930
Don't miss the Dayton EARS
Eating Meeting! Watch for
details. Official EARS simplex
freq. at Dayton: 145.150.


VE TESTING INFORMATION:
Sat. Feb. 26 Henderson, KY
Henderson Public Library
Commercial starts 9am
Amateur exams follow
$5.75 (W5YI)
(812) 254-2201
Sun. Mar. 6 Paris, IL
St. Mary's School/$5.75
1pm CT (217) 466-4315
Sat. Mar. ?? Evansville, IN
ARRL/$5.75
9am CT (812) 985-0109
NRE COMMERCIAL TESTING:
$35.00 per license (GROL or MROP)
February 28 - Henderson, KY
(see VE testing info)
March 31 - Wabash Valley College
(Mt. Carmel, IL) 7pm
Must pre-register! (812) 424-1506
April 23 - Vincennes University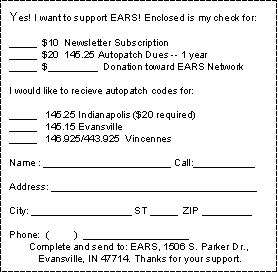 E.A.R.S.
1506 S. Parker Drive
Evansville, IN 47714






















THE EARS NEWSLETTER is a monthly publication produced by Neil Rapp WB9VPG. If you have any questions, comments, or contributions for the newsletter, please send them to Neil Rapp, 305 Sequoia Lane, Evansville, IN 47712 or call (812) 424-1506 or leave E-mail on Prodigy to Neil Rapp or on Internet at neil.rapp @ evsc.cld9.com.


Newsletter subscriptions are available for a contribution ($10 minimum annually) to EARS to cover expenses. If you would like autopatch codes for 145.15 (Evansville) or 146.925 (Vincennes), please state your interest. Please send your complete address and phone number when subscribing.
Send donations and/or subscription info to: EARS, 1506 S. Parker Dr., Evansville, IN 47714, or come to an eating meeting!


We are proud to announce that the EARS Newsletter is NOW AVAILABLE IN BRAILLE. Contact Tom Bozikis KE9ZV for more details on braille copies.


Information contained in the EARS newsletter may be reproduced freely, provided credit is given to the EARS Newsletter.