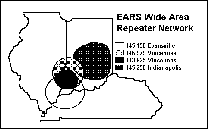 E.A.R.S.
1506 S. Parker Dr.
Evansville, IN 47714
(812) 479-5741


"Because a frequency..
..is a terrible thing to waste"


---
An ARRL Special Service Club W9EAR Member Indiana Repeater Council
February & March, 1997 Newsletter


THE NEXT E.A.R.S. EATING MEETING will be held be at Noble Roman's Pizza, Washington and Boeke, in Evansville on Friday, March 7 at 7:00 p.m.


REPEATER NEWS... Repairs continue on 146.925, 443.925, and 145.15. Eric N9KDB and Pete WB9DRB have been working hard on keeping things running. After 5.15 had been off for nearly a month, Eric made the long journey to Evansville and found the problem. A new power supply was installed, fixing the problem and getting 5.15 back on the air. Eric and Pete recently went to Vincennes and re-tuned the duplexers, transmitter, and receivers on 443.925. Thanks guys for all your assistance. Plans are in the works to replace the 443.925 with a new (to us) Motorola solid state repeater, along with a new Link repeater controller that will allow for automatic scheduling of the Indy link, and provide more DVR recording time. A bigger rotation of IDs is also possible with the new controller for more variety. The 146.925 and 145.15 amplifiers are still down, but both are still operational at low power. 145.11 repairs continue. Remember to use 107.2 tone encode on the EARS repeaters. ALL EARS REPEATERS ARE STILL OPEN FOR USE BY ALL AMATEURS WHO FOLLOW PROPER RULES AND OPERATING PROCEDURES.


THANKS TO DEBBIE ROUSCH (XYL-KB9KCF) for reproducing and preparing the EARS newsletter each month for mailing. Your help is greatly appreciated.


VISIT THE E.A.R.S. WORLD WIDE WEB PAGE! http://members.aol.com/earsham/
You can write to us on the Internet as well! Our e-mail address: EARSHAM@aolDOTcom






UPCOMING HAMFESTS:


Rockford, IL July 26, 1997 Winnebago Co. Fairgrounds, Pecatonica IL Talk in 146.61, 114.8 CTCSS


Dayton, OH Hamvention May 16. 17, and 18
Hara Arena See http://www.hamvention.org


Evansville, IN November 29, 1997 Vanderburgh Co. Fairgrounds 8 a.m. - 2 p.m. Central time. Admission $5. Wall tables - $10, Flea Market tables - $7. Talk in on 145.15.


VE TESTING INFORMATION:
EARS does not sponsor VE testing, but does advertise area testing dates and times. If you know of a test not listed, please write, call, or e-mail it to Neil ASAP!!!


Evansville, IN - Tuesday March 11 at 7 pm at
Harrison High School (Lloyd Expwy. &
Fielding Rd.) Room 213 by Harrison HS
ARC. $6.25 is the 1997 test fee. W5YI/VEC
For info, call Neil at (812) 479-5741, walk-ins
only please.


Evansville, IN - Saturday April 26 and Sept.
27 at the Red Cross Bldg., Diamond and
Heidelbach, at 9 a.m. by Tri-State ARS.
$6.25/ARRL-VEC. Contact Terry AA9MM.


Paris, IL - Sunday March 2 at 1pm at the
Community Hospital - Call John
Welch at (217) 466-4315.


Danville, IL - VCARA Club House Call John
Welch at (217) 466-4315 for more information.
For directions - (217) 442-3916.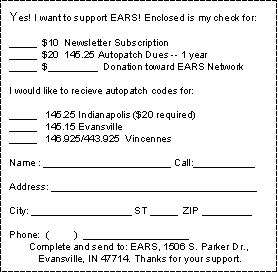 Electronic Applications Radio Service, Inc.
E.A.R.S.
1506 S. Parker Dr.
Evansville, IN 47714-3154
















VE TESTING, cont'd


Terre Haute, IN - Sunday at 1pm at the Terre
Haute Red Cross on Hwy 41 North on Apr 6.
Call Fred K9EBK at (812) 466-2122


Indianapolis, IN - IPL, 37th and Arlington, at
6:30 p.m. BY APPOINTMENT ONLY. Call
Tom N9LFU at 317-326-3168. Thomson
ARC/ARRL-VEC


Franklin, IN - Walk-ins only. For more
information, call 317-974-1488. MidState
ARC (3rd Sat. March thru November)


Mt. Carmel, IL - Tuesday Feb. 18 at Wabash
Valley College Electronics Dept. at 7 pm
Contact Ken Wood KF9W for info.


THANKS TO ALL THOSE who have graciously donated to EARS recently. They include: Robert Curry W9EO, Henry DalleAve WB9UWJ, Bill Sage K9IHU, Chris Lemon N9XIE, Dean Wathen KF9DL, and Ruel Burns
---
K9WHE. Your support keeps EARS running!



DON'T MISS THE EARS WIDE AREA NET AND NEWSLINE... MONDAYS AT
---
8:30 P.M. CDT (9:30 EST)
















































The E.A.R.S. newsletter is a monthly production of Electronic Applications Radio Service, Inc., a non-profit, charitable, tax-exempt organization. Neil Rapp, WB9VPG, editor. Send donations, articles, comments or information to E.A.R.S. at the address above or call (812) 479-5741. Articles for the newsletter and/or E-mail can be sent to EARSHAM@aolDOTcom. Information contained may be reproduced in any form, provided that credit is given to the EARS Newsletter.




















.










































to the E.A.R.S. Newsletter.