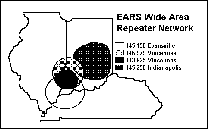 E.A.R.S.
1506 S. Parker Dr.
Evansville, IN 47714
(812) 479-5741
"Because a frequency..
..is a terrible thing to waste"
An ARRL Special Service Club
Member Indiana Repeater Council
Member Illinois Repeater Association
W9EAR
---
March, 1998 Newsletter
THE NEXT E.A.R.S. EATING MEETING will be held at Sirloin Stockade, on Bellemeade near Green River Rd. in Evansville on Friday, March 20 at 6:30 p.m. We again are looking for new locations and ideas for meetings. Please inform Neil of any suggestions.
REPEATER NEWS... A lot has been happening lately on the repeater work. Many thanks to all those who have helped, especially Mel N9IZG, Eric N9KDB, and Pete WB9DRB.
145.11... on the air, but the duplexers must be re-tuned by the two-way shop that did the work. We are continually asking them to fix this problem and install the new 5.15 receiver at this West side site.
145.15... still off the air. I took the transmitter out and took it to Indianapolis hoping to use the crystal in another transmitter or repair the one that failed. Neither could be accomplished. We're still waiting on a crystal for a new Spectrum transmitter, and a solid state amplifier that will put out about 120 watts. This will be less than our usual 250, but should be more reliable.
443.925... running great! The coverage is excellent, and things have been running very smoothly with the exception of some occasional intermod from a paging transmitter. New code sheets will be issued soon, as programming is being finished. Those who currently have autodial slots will
be automatically mailed a new code sheet, as well as those in the Vincennes area. If you do not receive one soon, please request one by sending a SASE to Neil Rapp, 1506 S. Parker Dr., Evansville, IN 47714.
146.925... Mel and Eric installed a new 250 watt amplifier, and this time added some
cooling fans and temperature sensors at the transmitter. The Indianapolis link still needs to be turned on at Seymour.
145.25... haven't heard anything from the Indianapolis folks. Will provide news as it arrives from Indy.
147.135... still operating with an input of 144.65 from near Seymour.
UPCOMING HAMFESTS:
Dayton, OH Hamvention May 15-17 Hara Arena www.hamvention.org (Ronnie Milsap concert this year at the banquet!!)
VE TESTING INFORMATION:
EARS does not sponsor VE testing, but does list area testing dates and times. If you know of a test not listed, please write, call, or e-mail it to Neil ASAP!!!
Evansville, IN - Sat. March 14 and Sat. April 25; 9:00 a.m.... Red Cross Bldg., Diamond and Heidelbach, by Tri-State ARS. ARRL-VEC. Contact Terry AA9MM (tbrooks@ evansville.net).
Paris, IL - Sunday at 1pm at the Community Hospital on May 3. Call John Welch at (217) 466-4315 or email jwwelch@juno.com.
Terre Haute, IN - Sunday at 1pm on April 5 at the Terre Haute Red Cross on Hwy 41 North. Call Fred K9EBK at (812) 466-2122.
Indianapolis, IN - IPL, 37th and Arlington, at 6:30 p.m. BY APPT. ONLY. Call Tom N9LFU at 317-326-3168. Thomson ARC/ARRL-VEC
Franklin, IN - Walk-ins only. For more information, call 317-974-1488. MidState
ARC (3rd Sat. March thru November)
THANKS TO ALL THOSE who have graciously donated to EARS recently. They include: Janice Knight KE4SVJ, Chris Lemon N9XIE, Larry Rudolph KB9KVX, and Farrell Youngman N9WFQ. Your support keeps EARS running!
NEW CODE SHEETS... Recent requests for 146.925 and 145.25 autopatch codes are being held until new programming and new sheets are completed. Those who have recently requested these items will receive them as soon as the new sheets are finished. The old code for the regular autopatch still works, for those who had it.
A RACES drill was held on Saturday, February 28, to help prepare for handling traffic in the event of a disaster. RACES volunteers went to specified locations to report on conditions there. The conditions were either scenarios spelled out in messages left on site by EMA personnel, or real conditions reported in response to real-time requests by EMA. There will be a RACES meeting for current RACES members on Thursday, March 12 at 7pm at the Red Cross building. If you're not currently enlisted in RACES, contact Norm King W9AU at (812) 963-5872 or nking.ucs@smtp.usi.edu. (Thanks SPARKS)
EARS on the Internet !
http://members.aol.com/earsham
E-mail: EARSHAM@aolDOTcom
---
DON'T MISS NEWSLINE... THE EARS WIDE AREA NET MEETS MONDAYS AT 8:30 PM CENTRAL ON THE W9EAR REPEATER NETWORK!

The E.A.R.S. newsletter is a monthly production of Electronic Applications Radio Service, Inc., a non-profit, tax-exempt organization. Neil Rapp, WB9VPG, editor. Send donations, articles, comments or information to the address above or call (812) 479-5741. Articles for the newsletter and/or E-mail can be sent to EARSHAM @aolDOTcom. Information contained may be reproduced, provided that credit is given to the EARS Newsletter. Visit our site on the World Wide Web at http://members.aol.com/earsham/index.html.