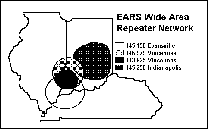 E.A.R.S.
1506 S. Parker Dr.
Evansville, IN 47714
(812) 479-5741
"Because a frequency..
..is a terrible thing to waste"
An ARRL Special Service Club
Member Indiana Repeater Council, Illinois Repeater Association, and Indiana Radio Club Council
---
W9EAR May, 1998 Newsletter W9EAR
THE NEXT E.A.R.S. EATING MEETING will be held at the WEVV-TV (CBS) studios at 44 Main Street in Evansville on Friday, May 1 at 4:00 p.m. (NOTE THE TIME!!) Sorry, but this is the latest we could schedule the tour. We'll have a get-together after the tour.
HARRISON H.S. ARC is seeking the donation of a dual band mobile and power supply for its club station. When not in use, this could also double as a remote receiver for 145.15. Contact Neil.
REPEATER NEWS... for the latest information, check the EARS web site.
145.11... I think the best solution given our current antenna situation is to put the 145.15 receiver at this site, and remove any transmitters. We'll probably move the 145.11 to Neil's house for the time being. 145.11 is functioning, but range is limited.
145.15... We're still waiting on the crystal. I've made several calls to Spectrum, and hopefully we'll be back by May 2. The new solid state amplifier has been ordered.
443.925... New code sheets are now available!! Those who have autodials should have already received codes in the mail. If you need a copy of the new codes, simply request a copy by e-mail or SASE. Most codes are the same as before, but some have changed. The only thing not working is the Indianapolis link to 5.25, which still requires work at Seymour.
146.925... Eric and Mel have once again improved the audio situation on the transmitter. The extreme heat at this site (126 degrees the other day) makes frequency stability a real challenge. Here's hoping the A/C is fixed soon. A new Icom radio has been installed, which receives 440 and then retransmits the repeater out on two meters. We now also as a result have a 107.2 tone on the output of the repeater, so you can use tone decode if you wish.
145.25... haven't heard anything from the Indianapolis folks. Will provide news as it arrives
from Indy.
147.135... still operating with an input of 144.65 from
near Seymour.
UPCOMING HAMFESTS:
Dayton, OH Hamvention May 15-17 Hara Arena www.hamvention.org
Owensboro, KY May 2
VE TESTING INFORMATION:
EARS does not sponsor VE testing, but does list area testing dates and times. If you know of a test not listed, please write, call, or e-mail it to Neil ASAP!!!
Evansville, IN - Sat. April 25; 9:00 a.m.... Red Cross Bldg., Diamond and Heidelbach, by Tri-State ARS. ARRL-VEC. Contact Terry AA9MM (tbrooks@ evansville.net).
Evansville, IN - Wed., May 13; 7:00 pm, Room 213 Harrison High School. W5YI-VEC. Contact Neil WB9VPG at 812-479-5741.
Vincennes, IN - Sat. May 9; 9:00 am, Technology Bldg, Vincennes University. Contact Phil Smith AA9ZZ.
Paris, IL - Sunday at 1pm at the Community Hospital on May 3, and July 5. Call John Welch at (217) 466-4315 or email jwwelch@juno.com.
Terre Haute, IN - Sunday at 1pm on April 5, June 7, and Aug. 2 at the Terre Haute Red Cross on Hwy 41 North. Call Fred K9EBK at (812) 466-2122.
Indianapolis, IN - IPL, 37th and Arlington, at 6:30 p.m. BY APPT. ONLY. Call Tom N9LFU at 317-326-3168. Thomson ARC/ARRL-VEC
Franklin, IN - Walk-ins only. For more information, call 317-974-1488. MidState
ARC (3rd Sat. March thru November)
---
NEWSLINE AND EARS WIDE AREA NET

MONDAYS at 8:30 p.m.
---

HERE WE GO... by WD9FEG Bob

Howdy! From Greene County! Boy, a lot is going on around here since my last article. Remember, I am not a writer by any means so bare bear (hang in there) with me on that one. Hi . I'm not sure any more how this all came about- I'm now sending this to the Beam, EARS,and the Bandspread.. I think that is really something!

Hay! Have you heard the 146.925 repeater lately? What a nice signal! Catch their net on Mondays at 8:30pm.. They play Newsline, a good way to find out what is going on with Amateur Radio around the country.

We now have about all the bugs worked out of the Dugger 146.775 repeater now. Thanks to Kevin, WB9QBR the audio sounds great! We've gained quite a bit of coverage with the increase in power. We have also been using the audio announcement function on the new controller. Neat! If you miss the announcement, just hit #7 on your keypad and hear the latest­don't forget to ID..

With that, the Dugger Amateur Radio Club (DARC) has suspended regular monthly ;meetings until the first Sunday afternoon in October..The net will continue each Monday evening at 8:00pm local time on 146.775. Check in for all the details..

Also, the DARC will have a cook-out/pitch-in Saturday evening May 2nd at the Horseman's Campground in the Greene Sullivan State Forest.. We will eat around 7:00pm. or so and of course the talk-in frequency will be 146.775 repeater. To get there just turn south at coal mine corner in Dugger on 159 go about 5 miles or so, give or take, and turn east at the chicken sitting on the mailbox!!

The Traildusters Saddle Club , of which I am also a member, will also be a part of that deal.We should have a good time. We'll be doing some trail riding both Saturday and Sunday. There may even be a few spare horses. So , there ya go , bring a covered dish, a big story, and wear yer boots!!

That reminds me, are you a HAM and do you ride a horse? There are a bunch of us around here that enjoy trailriding. Let us know who you are. Get in touch. We'd be very happy to ride with you. Some of us have been envolved with search and rescue efforts in the area.

Well, that's about it for now. Don't forget, the DARC net on 146.775 Mondays at 8:00pm. followed by the EARS wide area net at 8:30pm. with Newsline on the 146.925. Catch the Greene County bunch on 145.39 Tuesdays at 9:00pm.

If you want to get ahold of me, that's pretty easy to do . I'm on 146.775 and 444.35 about any time I am in the truck. You can also get me by e-mail----rchattin@cinergy.com------Later Taters de WD9FEG

---

DON'T MISS NEWSLINE... THE EARS WIDE AREA NET MEETS MONDAYS AT 8:30 PM CENTRAL ON THE W9EAR REPEATER NETWORK!

The E.A.R.S. newsletter is a monthly production of Electronic Applications Radio Service, Inc., a non-profit, tax-exempt organization. Neil Rapp, WB9VPG, editor. Send donations, articles, comments or information to the address above or call (812) 479-5741. Articles for the newsletter and/or E-mail can be sent to EARSHAM @aolDOTcom. Information contained may be reproduced, provided that credit is given to the EARS Newsletter.