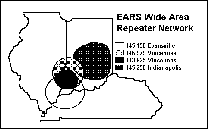 E.A.R.S.
1506 S. Parker Dr.
Evansville, IN 47714
(812) 479-5741
"Because a frequency is a terrible thing to waste"
An ARRL Special Service Club
Member Indiana Repeater Council, Illinois Repeater Association, and Indiana Radio Club Council
W9EAR October/November, 1998 Newsletter W9EAR
---
THE NEXT E.A.R.S. EATING MEETING will be held at Shyler's BBQ, on Green River Road just south of the Lloyd Expressway, in Evansville on Friday, November 27 at 5:00 p.m. Hamfest setup will continue after the meeting. Plans for the hamfest will be discussed, as well as the Christmas party.
THIS YEAR'S ANNUAL CHRISTMAS PARTY AT WOLF'S BBQ on 1st Avenue, just north of Central H.S., will be on Tuesday, December 15 at 6:30 p.m. A video presentation will be shown following the meal, and door prizes will be awarded. The cost for the chicken and ribs buffet is $13.13. You must turn in your reservations to Neil for the meal by December 8 at 812-479-5741 or neilrapp@comsource.net.
THIS YEAR'S HAMFEST PROMISES TO BE THE BEST YET! While we have moved to a slightly smaller building at the 4-H Center, we have some new features that should make this year's hamfest the best yet! Together with the Ham Station, the corporate sponsor of the hamfest, we have been able to plan a few extras. Icom and Yaesu representatives will be on hand to answer your questions. In addition, we were just informed that the Icom "Funmobile" will be there for hams to try out Icom equipment "before you buy", and receive special discount coupons that are only available by stopping by the Funmobile!! We have lots of door prizes to give away, and the Old Post ARS will again have their excellent food booth so you can stay all day. In fact, we may even have a forum on antennas... arrangements are still pending. Don't miss the hamfest... Saturday, November 28 from 8 a.m. to 2 p.m. Central. Some tables are still available. Cost: $8.
WE NEED DONATIONS OF DOOR PRIZES for the hamfest! Although we already have several, we'd like to have as many as possible! Please help by asking for donations of small items by companies to the hamfest. We also will need people to help during Friday afternoon setup, Friday evening setup (7-9 pm), Saturday morning setup (6-8am), Talk-in (6am-12pm), and ticket sales (7:30 am - 12pm). Please see Neil if interested.
REPEATER NEWS... for the latest information, check the EARS web site.
145.11... Waiting on the return of the duplexers from the 2-way shop.
145.15... We still have a few things to go, but the renovations are nearly complete. We have noticed that the amplifier has been dropping in power from time to time for short durations. We're checking into it. Eric is working on a weather radio project for the repeater, similar to the one in Vincennes.
443.925... The only thing not working is the Indianapolis link to 5.25, which still requires work at Seymour.
146.925... Don't forget that 107.2 CTCSS decode is now available.
145.25... ????
147.135... still operating with an input of 144.65 from near Seymour. There is apparently a problem with the UHF link from Seymour back to Indianapolis for the receive site there, so traffic through this receive site is not working.
UPCOMING HAMFESTS:
November 14 & 15 Fort Wayne, IN Coliseum http://www.pipeline.com/~dagagnon/ (See Neil for 2 free tickets)
Saturday, November 28, 8 am - 2 pm CT Evansville, IN 4-H Fairgrounds Expo Bldg. Talk in on EARS Network! http://members.aol.com/earsham
---
EARS E-mail: EARSHAM@aolDOTcom
Web: http://members.aol.com/earsham
More Frequent E-mail newsletters are available on request!!!
VE TESTING INFORMATION:
EARS does not sponsor VE testing, but does list area testing dates and times. If you know of a test not listed, please write, call, or e-mail it to Neil ASAP!!!
Petersburg, IN - Tues., Nov. 17 at the Pike Co. Security Center basement. W5YI-VEC. 7:00 p.m. For more information, contact Cary Bailey W9CZH (cbailey@comsource.net)
Evansville, IN - Sat. Dec. 12; 9:00 a.m.... Red Cross Bldg., Diamond and Heidelbach, by Tri-State ARS. ARRL-VEC. Contact Terry AA9MM (tbrooks@ evansville.net).
Paris, IL - 1st Sunday of ODD numbered months at 1pm at the Community Hospital (Nov. 1 and Jan. 3). Call John Welch at (217) 466-4315 or email jwwelch@juno.com.
Terre Haute, IN - 1st Sunday of EVEN numbered months at 1pm (Dec. 6) at the Terre Haute Red Cross on Hwy 41 North. Call Fred K9EBK at (812) 466-2122.
Greencastle, IN - 3rd Sat. of ODD numbered months, 1 pm EST (Nov. 21). Contact Jim AA9FY.
Danville, IL - 1st Sunday of even months at VA hospital at 1pm Central time. Contact John Welch AA9JE.
Indianapolis, IN - IPL, 37th and Arlington, at 6:30 p.m. BY APPT. ONLY. Call Tom N9LFU at 317-326-3168. Thomson ARC/ARRL-VEC
Franklin, IN - Walk-ins only. For more information, call 317-974-1488. MidState ARC (3rd Sat. March thru November)
A PUBLIC STAR VIEWING will be held by the Evansville Astronimical Society at the Wahnsiedler Observatory in the Lynnville Park on Sat., Nov. 14 at 7:30 p.m. Stargazers are welcome! (From Dean, KF9DL)
A NEW EARS NETWORK MAP is now available on the web site, as well as other EARS information, this newsletter, and other important ham radio information. Log on at http://members.aol.com/earsham. A Black-and-White version is enclosed in this newsletter.
REPEATER COORDINATION NEWS... the Indiana Repeater Council web site now supports online forms! Visit the Indiana coordinator at http://www.ircinc.org. Also, the National Frequency Coordination Council has its web page online at http://www.arrl.org/nfcc which contains national coordination standards and official local coordination contacts for your state.
FORM 610 TO BECOME SILENT KEY... The FCC is 6-8 months away from doing away with Form 610. The form will be accepted for 6 months past the announcement date. The new universal form 605 will be used for all radio services, or can be entered online at http://www.fcc.gov/wtb/uls
---
The E.A.R.S. newsletter is a monthly production of Electronic Applications Radio Service, Inc., a non-profit, tax-exempt organization. Neil Rapp, WB9VPG, editor. Send donations, articles, comments or information to the address above or call (812) 479-5741. Articles for the newsletter and/or E-mail can be sent to EARSHAM @aolDOTcom. Information contained may be reproduced, provided that credit is given to the EARS newsletter.
---
MCARS News...

Visit MCARS at http://www.bromac.com/mcars

MCARS meetings:

1st Tuesday of the month, 7:00 p.m. EST
In the basement of Friendship Apostolic Church, 2360 S. Meridian St., Indianapolis.

(Article not available at press time...)