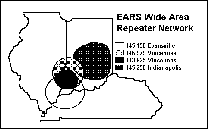 E.A.R.S.
1506 S. Parker Dr.
Evansville, IN 47714
(812) 479-5741


"Because a frequency..
..is a terrible thing to waste"


---
An ARRL Special Service Club KB9KBT Member Indiana Repeater Council

October/November, 1996 Newsletter



THE NEXT E.A.R.S. EATING MEETING will be held on Friday, November 1 at 6:30 PM Central at Old Country Buffet, Morgan & Green River Roads, in Evansville. Discussion will be held about the upcoming hamfest on November 30. Volunteers are needed to gather prize donations, as well as to sell tickets and work the day of the hamfest. Contact Neil if you can help with any of this.



UPCOMING EATING MEETINGS:

Thursday, December 5, we will have our annual Christmas dinner at Wolf's BBQ on First Avenue in Evansville at 6:30 p.m. Central. The menu includes all-you-can-eat BBQ chicken, ribs, potato salad, etc. The cost for the meal, including tax and gratuity, is $13.13 per person. RESERVATIONS MUST BE MADE IF YOU WILL BE EATING AT THIS MEETING. Make your reservation with Neil at 812-479-5741 or by e-mail at EARSHAM@aolDOTcom or on the net by Monday, December 2. EARS will pick up the rental of the banquet room. The next meeting will be at Old Country Buffet on Thursday, January 16 at 6:30 p.m.



REPEATER NEWS!!! 146.925 and 443.925 are back on the air!!! On October 18, we were finally able to get a transmitter running. Many, many, many thanks for Pete Crasher WB9DRB for his many, many hours on this project. We went through 6 transmit strips, 2 power supplies, 2 sets of crystals, who knows how many fuses, and 4 trips to the site. After a 12 hour stint on Friday the 18th, finally one worked. The project is still not quite finished, as the duplexers still need some help. So, the signal will get better soon when it can run at full power. The 145.25 link will work when the signal is strong enough to make the trip to Indy. 145.15 is having exciter trouble (again), and is





also running on low power. 145.11 has been cutting out on ocassion, and is being looked at by the installer, since it's still under warranty. 145.25 seems to be running well. A reminder on the 145.25 system... if you would like to "adopt a site", contact Marty at (317) 253-7985.

Remember... 107.2 CTCSS encoding is required for the 145.11, 145.15, and 146.925 (via Farmersburg) repeaters. This is NOT a means of "closing" the repeater. ALL EARS REPEATERS ARE STILL OPEN FOR USE BY ALL AMATEURS WHO FOLLOW PROPER RULES AND OPERATING PROCEDURES.



VISIT THE E.A.R.S. WORLD WIDE WEB PAGE! http://members.aol.com/earsham/

You can write to us on the Internet as well! Our e-mail address: EARSHAM@aolDOTcom



UPCOMING HAMFESTS:

Evansville, IN November 30, 1996 Vanderburgh Co. Fairgrounds 8 a.m. - 2 p.m. Central time. Admission $5. Wall tables - $10, Flea Market tables - $7. Talk in on 145.15.

Volunteers will soon be needed!!! Contact Neil.



VE TESTING INFORMATION:

EARS does not sponsor VE testing, but does advertise area testing dates and times. If you know of a test not listed, please write, call, or e-mail it to Neil ASAP!!!



Paris, IL - Sunday at 1pm Central at the

Community Hospital on Nov. 3. Call John

Welch at (217) 466-4315.



Danville, IL - Sunday at 1pm Central at the

VCARA Club House on Dec. 8. Call John

Welch for more information. For directions -

(217) 442-3916.

(over)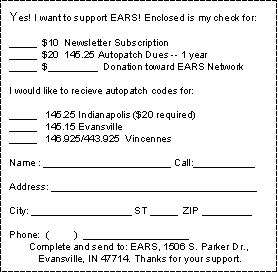 Electronic Applications Radio Service, Inc.
E.A.R.S.
1506 S. Parker Dr.
Evansville, IN 47714-3154
























Terre Haute, IN - Sunday at 1pm EST at the
Terre Haute Red Cross on Hwy 41 North on
Dec. 1. Call Fred K9EBK at (812)
466-2122


Indianapolis, IN - Nov. 20 and Dec. 18 at IPL,
37th and Arlington, at 6:30 p.m. BY
APPOINTMENT ONLY. Call Tom N9LFU at
317-326-3168. Thomson ARC/ARRL-VEC


Franklin, IN - Saturday, Nov. 16 at 9:30 a.m. at
the Johnson Co. Sheriff's office in Franklin.
Walk-ins only. For more information, call 317
974-1488. MidState ARC (3rd Sat. March
thru November)


THANK YOU!! to those who have donated to EARS recently. These include: Larry Worlow KB9KKP, and John Garino KF9UH. Your help is greatly needed to help maintain the repeaters.


Troy N9ZEK, from CTS Communications, wrote us, and notes that his business has moved to just east of Buy-Low in Oakland City on SR 64. Also, he will be carrying Kenwood products, and also antennas for nearly every band. You can call Troy at (812) 749-3187.


Again, I apologize for not having a newsletter
eating meeting last month. I have the next three planned, hopefully that will keep me on time. Thanks for your patience.


Listen for the new EARS vanity callsign, coming soon!




































The Old Post ARS in Vincennes is having a raffle for a gun and a handheld scanner. See Neil or any OPARS member for tickets.


DON'T MISS THE EARS WIDE AREA NET AND NEWSLINE... MONDAYS AT 8:30 P.M.


The E.A.R.S. newsletter is a monthly production of Electronic Applications Radio Service, Inc., a non-profit, charitable, tax-exempt organization. Neil Rapp, WB9VPG, editor. Send donations, articles, comments or information to E.A.R.S. at the address above or call (812) 479-5741. Articles for the newsletter and/or E-mail can be sent to EARSHAM@aolDOTcom. Information contained may be reproduced in any form, provided that credit is given.


to the E.A.R.S. Newsletter.