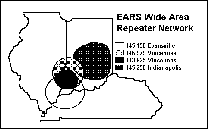 E.A.R.S.
1506 S. Parker Dr.
Evansville, IN 47714
(812) 479-5741


"Because a frequency..
..is a terrible thing to waste"


---
An ARRL Special Service Club W9EAR Member Indiana Repeater Council
September, 1997 Newsletter


THE NEXT E.A.R.S. EATING MEETING will be held be at Sirloin Stockade, on Bellemeade near Green River Road in Evansville, on Friday, September 12 at 6:30 p.m.


REPEATER NEWS... The police report for the stolen 145.11 repeater has been obtained, and the wheels are turning toward a replacement. 443.925 is dying out once again. Mel N9IZG reports progress on the new Motorola system that will replace 443.925, but it will not be ready before the current one gives out.


HAVE YOU SEEN THE E.A.R.S. WORLD WIDE WEB PAGE LATELY?? It has been updated recently! Features include a new look, sound clips, and most of all the ability to read newsletters online rather than download. Check it out at http://members. aol.com/earsham/
You can write to us on the Internet as well! Our e-mail address: EARSHAM@aolDOTcom


UPCOMING HAMFESTS:
Louisville, KY Sat & Sun Sept. 6-7 Kentucky Fair & Expo Center. Talk in 146.88-. Email: WD4IXL@juno.com
Spencer, IN Sat. Sept. 6 Owen Co. Fairgrounds. Talk in 146.985-.
Peoria, IL Sept. 20-21
Bedford, IN Sun. Oct. 5 5am-3pm Talk-in 146.73- Exams offered at 12 Noon.
Centralia, IL Oct. 19
Evansville, IN November 29, 1997 Vanderburgh Co. Fairgrounds 8 a.m. - 2 p.m.
Central time. Admission $5. Wall tables - $10, Flea Market tables - $7. Talk in on 145.15.




VE TESTING INFORMATION:
EARS does not sponsor VE testing, but does advertise area testing dates and times. If you know of a test not listed, please write, call, or e-mail it to Neil ASAP!!!


Evansville, IN - Saturdays at 9 a.m. Central on: Sep 27, Nov 8, and Dec 20. at the Red Cross Bldg., Diamond and Heidelbach, by Tri-State ARS. $6.25/ARRL-VEC. Contact Terry AA9MM.


Evansville, IN - Tuesday, October 7 at Harrison High School Room 213 7:00 p.m. $6.25/W5YI-VEC. Contact Neil WB9VPG at 812-479-5741.


Vincennes, IN - Sat., Sept. 20 at the Vincennes Univ. Technology Bldg. 9 a.m. $6.25/ARRL-VEC.


Paris, IL - Sundays at 1pm at the Community Hospital on Sept. 7, and Nov. 2 - Call John Welch at (217) 466-4315 or
email jwwelch@juno.com.


Terre Haute, IN - Sundays at 1pm at the Terre Haute Red Cross on Hwy 41 North on Aug 3, Oct. 5, and Dec. 7. Call Fred K9EBK at (812) 466-2122.


Indianapolis, IN - IPL, 37th and Arlington, at
6:30 p.m. BY APPOINTMENT ONLY. Call
Tom N9LFU at 317-326-3168. Thomson
ARC/ARRL-VEC


Franklin, IN - Walk-ins only. For more
information, call 317-974-1488. MidState
ARC (3rd Sat. March thru November)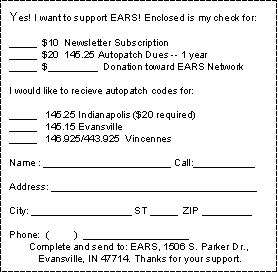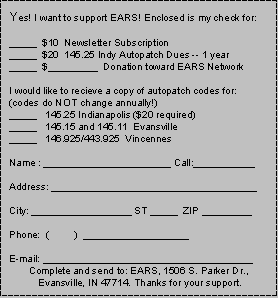 Electronic Applications Radio Service, Inc.
E.A.R.S.
1506 S. Parker Dr.
Evansville, IN 47714-3154






















THANKS TO ALL THOSE who have graciously donated to EARS recently. They include: George and Ellen Weimer KG9HU and KB9NZC, Charles Adams KC9BO, Walter Wilson, and Don Wright KA9YEQ. Your support keeps EARS running!


EARS E-mail news... I have started to keep a list of e-mail addresses on the WWW page and in my address book for mass mailings about EARS news. If you want to be added to the list, send your e-mail address to neilrapp@comsource.net


FOR SALE/TRADE: By Greg Tatlock N9PUG (812-522-9923 or n9pug@juno.com or packet: n9pug@ww9a.in.usa)...
1) IC-706, never been mobile, $850 firm; 2) Kenwood TH-41A, 3 battery packs, mobile cord with filter, charger, manual, and hand mic, $125 firm; 3) Yaesu YS-60 SWR and power meter 160m-60 MHz New: $125 Sale: $85 or trade for good 440 vertical; 4) K.R.I.S. amplified mike, wired for Swan. $25?; 5) Standard HT headset, also works on Icom, Yaesu. Radio Shack $25; 6) 12V 25 amp hour rechargable sealed pack $20; 7) 220 MHz SSB homebrew 13 element boomer, $25?; LOOKING TO BUY: 440 mobile & vertical














































---
DON'T MISS NEWSLINE... THE EARS WIDE AREA NET MEETS MONDAYS AT 8:30 PM CENTRAL ON THE W9EAR
---
REPEATER NETWORK!
The E.A.R.S. newsletter is a monthly production of Electronic Applications Radio Service, Inc., a non-profit, tax-exempt organization. Neil Rapp, WB9VPG, editor. Send donations, articles, comments or information to the address above or call (812) 479-5741. Articles for the newsletter and/or E-mail can be sent to EARSHAM @aolDOTcom. Information contained may be reproduced, provided that credit is given to the EARS Newsletter. Visit our site on the World Wide Web at http://members.aol.com/earsham.