Electronic Applications Radio Service
W9EAR

c/o 1506 S. Parker Drive, Evansville, IN 47714-3154
(812) 479-5741 http://members.aol.com/EARSham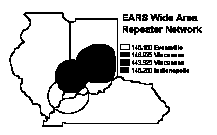 E-mail: EARSham@aolDOTcom
An ARRL Special Service Affiliated Club
Member
Indiana Repeater Council
, Illinois Repeater Council, and Indiana Radio Club Council
"Because a frequency is a terrible thing to waste"
Summer, 1999 Newsletter
THANKS to those who donated to EARS recently, including: Leonard Kienzinski KB9LLQ, Ray Mott N9QEI, and Dean Elkins K4ADJ. Your support keeps EARS going!
THE NEXT E.A.R.S. EATING MEETING will be at Old Country Buffet, Morgan and Green River in Evansville, on Friday August 6 at 6:30 p.m. Come put a face with the voice you hear!!
THIS YEAR'S HAMFEST GEARING UP… Teaming up with The Ham Station for the second year, we are proud to announce the 7th annual Evansville Winter Hamfest. In the past couple of months we have learned that we will be able to move the hamfest back to the auditorium, where it was held each year except 1998. This will allow for more room and better kitchen availability. Make plans now to attend on Saturday, November 27. See our web site for complete information.
REPEATER NEWS... for the latest information, check the EARS web site.
145.11... The duplexers have returned, and the repeater has been on in short-range testing mode. Once it has been retuned, it should be back on in a permanent setting.
145.15... A new software upgrade has arrived, and will be installed soon. There should be no changes in access codes. The upgrade will increase time accuracy, autopatch code capacity, and hopefully get rid of the feedback when you unkey! All codes should remain the same. Remember to listen to the EARS repeaters during severe weather. All NWS warnings are automatically retransmitted from the Edwardsport and Evansville weather stations. The main receive site is still down, although the cause (insufficient backup power) has been found and being remedied. Another voter has been located, and we hope to have the main receiver back up along with multiple receivers throughout the tri-state soon, including a local receiver that will not require subaudible tone access.
146.925/443.925... We were in progress of doing a software upgrade to the RLC-2 when an RLC-3 became available. Eric is working on programming the RLC-3 now. This enhancement will allow for expansion, more programming, and a few more functions. Again, we anticipate no changes in the access codes.
Eric and Mel were able to find the paging transmitter causing the interference to the repeater with a little "fox hunting". It was near Robinson, IL. I spoke with the engineer in charge today, and he has assured me the problem has been rectified. Hopefully this will keep the repeater free from annoying noises for a long time.
UPCOMING HAMFESTS/GATHERINGS:
Saturday, July 17, 11am. Evansville, IN Wesselman Park. Tailgate party, sponsored by TARS. Free admission! Free hamburgers and hot dogs! Talk in on 147.15.

Sunday, August 15 Lexington, KY Bluegrass ARS Hamfest

Saturday, September 11 and Sunday, September 12 KY State Convention & Hamfest; Louisville, KY Fair & Expo Center

Saturday, September 11 Owen Co. (Spencer, IN) Tailgate Party

Saturday, September 18 and Sunday, September 19 Peoria, IL Hamfest

Sunday, September 19 Cincinnati, OH Hamfest

Sunday, October 3 Hoosier Hills Hamfest, Bedford, IN (Lawrence Co. Fairgrounds)

Saturday, November 13 and Sunday, November 14 Indiana State Convention & Hamfest, Fort Wayne

Saturday, November 27, 8 am - 2 pm CT Evansville, IN 4-H Fairgrounds Expo Bldg. Talk in on EARS Network! http://members.aol.com/earsham
Because of a drop in interest of meetings, the frequency of eating meetings has been reduced. The newsletter frequency has also been reduced to note the change. More frequent updates are available on the EARS Web Site at http://members.aol.com/earsham, and on the EARS E-mail list. To subscribe to the e-mail newsletter updates, contact Neil at neilrapp@insightbb.com.
VE TESTING INFORMATION:
EARS does not offer testing, but does list area testing dates and times. If you know of a test not listed, please write, call, or e-mail Neil WB9VPG ASAP!!!
Evansville, IN - Sat. July 31, Aug. 28, Sept. 25, Oct. 30, and Dec. 4; 9:00 a.m.... Red Cross Bldg., Diamond and Heidelbach, by Tri-State ARS. ARRL-VEC. Contact Terry AA9MM
tbrooks@evansvilleDOTnet

Paris, IL - Due to lack of interest, all tests scheduled in Paris, IL have been CANCELLED.

Terre Haute, IN - 1st Sunday of EVEN numbered months at 1pm at the Terre Haute Red Cross on Hwy 41 North. Call Fred K9EBK at (812) 466-2122.

Greencastle, IN - 3rd Sat. of ODD numbered months, 1 pm EST. Contact Jim AA9FY.

Danville, IL - 1st Sunday of even months at VA hospital at 1pm Central time. Contact John Welch AA9JE.

Indianapolis, IN - IPL, 37th and Arlington, at 6:30 p.m. BY APPT. ONLY. Call Tom N9LFU at 317-326-3168. Thomson ARC/ARRL-VEC

Franklin, IN - Walk-ins only. For more information, call 317-974-1488. MidState ARC (3rd Sat. March thru November)

NEWS FROM THE FCC… Many changes are anticipated over the next few months to the Amateur Service in conjunction with the Universal Licensing System (ULS). With the ULS, all licenses issued by the FCC will use a single format, which can be updated on the FCC web site. A new FCC form 605 will replace the current form 610 by the end of the year. Form 605 can be customized by each VEC. Therefore, the form required for an ARRL exam could be different from W5YI or other exam coordinators. W5YI has already released its version, which very closely resembles the old form 610, only with a few added boxes for Federal ID number and e-mail. Watch for updates at

www.w5yi.org. Effective immediately, ALL FORM 610s MUST HAVE A SOCIAL SECURITY NUMBER OR TAX ID NUMBER WRITTEN IN AT THE TOP. The FCC will reject any 610 submitted without this added information.

FOR SALE… Hewlett Packard 5p SCSI flatbed scanner. $50. Contact Del Rapp WB9UKG at

delrapp@vincennes.net.

FOR SALE… Icom IC-2AT with AA battery pack. Output 1W Hi, .8W Low. $70.
LOOKING FOR... Dry Dummy Load, 100W or more; VHF or VHF/UHF SWR single needle meter.
Contact Dean Wathen KF9DL 867-2862

The E.A.R.S. newsletter is a monthly production of Electronic Applications Radio Service, Inc., a non-profit, tax-exempt organization. Neil Rapp, WB9VPG, editor. Send donations, articles, comments or information to the address above or call (812) 479-5741. Articles for the newsletter and/or E-mail can be sent to EARSHAM @aolDOTcom. Information contained may be reproduced, provided that credit is given to the EARS newsletter.

MCARS News...

Visit MCARS at http://www.bromac.com/mcars

145.25 update

The repeater is about ½ rebuilt from the lightning strikes suffered during the spring storm season. The stand alone 145.41 is available during the absence. The insurance check has arrived, and repairs are continuing.

(Article not available from MCARS at press time...)