Evansville, IN 145.11-
Evansville, IN 145.15-
Vincennes, IN 146.925-
Vincennes, IN 443.925+
Mt. Vernon, IL 147.18+
107.2 CTCSS
Electronic Applications Radio Service
W9EAR
c/o 2744 Pinehurst Drive, Bloomington, IN 47403
(812) 333-4116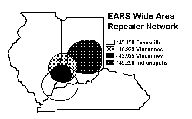 http://w9ear.org/
E-mail: ears@w9earDOTorg
An ARRL Special Service Affiliated Club
Member Indiana Repeater Council, Illinois Repeater Council, and Indiana Radio Club Council
"Because a frequency is a terrible thing to waste"
---
Fall, 2001 Newsletter
THE LATEST EARS news is sent out on email.  Sign up by sending a request to ears@w9earDOTorg.
THANKS to those who donated to EARS recently, including: Samuel Baumberger KB9TJS, John Garino KF9UH, Don Land KB9YWQ, and Chris Lemon N9XIE. Your support keeps EARS going!
SILENT KEY Mel Cox, K9MEL (formerly N9IZG) passed away August 29.  Mel has been a tremendous asset to EARS, Amateur Radio, and the community in general.  Mel was instrumental in the upgrades to the Vincennes 440 repeater, and maintaining the Paxton transmitter and Farmersburg receiver.  He was an engineer at WTWO-TV near Terre Haute.  Our sympathies go out to his family, especially his wife Patti KB9TJW.
REPEATER NEWS... for the latest information, check the EARS web site or the email newsletter.  We still need a few more signal reports!!!
145.11

... The repeater is on from Chrisney in testing mode thanks to Pete WB9DRB.  Be sure to use 107.2 CTCSS.

· 145.15… suffered a lightning hit… took out the phone line and some fuses, as well as the amplifier. The repeater has been back on the air for a while now, but without the amp and the autopatch. The autopatch phone line has been restored, but now it appears the autopatch board itself may have been damaged. Eric N9KDB and Neil WB9VPG picked up the amplifier yesterday from Dan KB9KCF, and took it in for evaluation and replacement. Hopefully the new one will be here in time for the hamfest.  Eric also tried to repair the weather alert system in Evansville. Eric pulled it from the system for repair, and we'll get it back in as soon as it can be fixed.
· 146.925/443.925… Also, Eric and Neil went to both the Vincennes receive site and transmitter site (Paxton) to check on things. They turned the power up a notch on 146.925, it had been running a little low. We turned off the 443.925 receiver due to intermod. It opened the squelch up almost constantly at some points. So, the input to the Vincennes 440 repeater will not work for the time being until we can track down the problems there. The transmitter is still working fine.
· So in short, the following are disabled:
145.15 autopatch
145.15 weather alert
145.15 is transmitting on low power
443.925 input.

· 145.25... no news
CONGRATULATIONS to Eric Bonham N9KDB, who was married to Amy Baker in Indianapolis over the summer.  Eric also recently accepted an engineering position with WTHR-TV in Indianapolis.
THE BIG MOVE!  As you have probably noticed by now, EARS has a new address!  Part of the reason for the delay since the last newsletter (besides being too busy) was the big move.  All the stuff at 1506 S. Parker Drive in Evansville was moved to 2744 Pinehurst Drive in Bloomington, which was a major undertaking.  A personal thanks to all those who helped.  I (Neil) accepted a position at Bloomington High School South to teach AP and organic chemistry, which was the reason for the move.  My plans are to keep EARS running as much the same as possible.  I'm still trying to get the tower back up so I can run the net from here, and I'm looking for a way to link in a repeater from the Bloomington area back into the system.  More details will follow.  But for now, please make the note of the change of address for all EARS communications.
THE ANNUAL EVANSVILLE HAMFEST is not far away!  We once again are calling on everyone to help out.  Friday, November 23rd, will be vendor setup at the 4-H Center from 5 to 9 pm.  Setup will resume Saturday morning November 24th from 6 to 8 am, and then the hamfest will start at 8 am Central Time.  We need people to help vendors unload on Friday night, post signs, and rearrange tables.  We really need help on Saturday with talk-in, ticket sales, and security.  The Old Post ARS from Vincennes once again will operate the food stand.  Any time you can help would be most appreciated.
UPCOMING HAMFESTS/GATHERINGS:
November 17-18, 2001 - Fort Wayne, IN (Indiana State ARRL Convention) http://www.acarts.com
November 24, 2001 - Evansville, IN - Vanderburgh Co. 4-H Center Auditorium - 9 am - 2 pm Central  Talk in on 145.15- (107.2) http://w9ear.org/hamfest.htm
December 9, 2001 - Greenfield, IN - Greenfield Central Pavilion. Prizes: an HT an hour. E-mail kb9vzl@excite.com
VE TESTING: updated daily on EARS Web site
EARS does not sponsor VE testing, but does list area testing dates and times. If you know of a test not listed, please write, call, or e-mail it to Neil ASAP!!! For all tests, bring 2 forms of ID, one must include picture; calculator; pens/pencils, CSCEs and current license photocopies (if any); test fee ($10.00 for all Amateur (Ham) tests... $35 for commercial GROL). ARRL-VEC and W5YI-VEC will charge $10.00 per exam for all Amateur Radio exams. Also effective July 1, multiple choice Morse Code exams will no longer be given.  In order to pass, you must have 1 minute of solid copy (25 characters), or answer 7 out of 10 fill-in-the-blank questions correctly.
VE exams:
Evansville, IN - Evansville/Vanderburgh EMA office, located in the Red Cross Bldg., Diamond and Heidelbach, by Tri-State ARS. Pre-registration is not required. ARRL-VEC. Contact Terry AA9MM tbrooks@sigecomDOTnet or evenings 812-421-9135.
Vincennes, IN - 3rd Saturday in January, May, and November. 9:00 am Eastern. Vincennes University Technology Building. For more information, contact Phil Smith AA9ZZ at 812-885-5830 (work). ARRL-VEC.
Terre Haute, IN - 1st Sunday of EVEN numbered months at 1pm at the Terre Haute Red Cross on Hwy 41 North. Call Bob Harker KC9UU at (812) 235-9374 or rharker@email.msn.com
Bloomington, IN - First Saturday of each month, at the First Baptist Church on East Third Street in Bloomington, just west of Eastland Plaza. The only exception is when testing would fall on a holiday. Testing always begins at 12:00 noon. Please arrive 20-30 minutes early, so that we can begin processing paperwork. For more information, call Millard Qualls, K9DIY at (812)332-0074.
Franklin, IN - Walk-ins only. For more information, call 317-974-1488. MidState ARC (3rd Sat. March thru November)
Greenfield, IN - Greenfield Central High School on the fourth Saturday of the month. Contact Bob Simcox AA9XJ at r-simcox@home.com.
Marshall, IL - 2nd Saturday of ODD numbered months at 9 am at the First Christian Church. Contact John N9YRX at n9yrx@hotmailDOTcom.
A REMINDER THAT AUTOPATCH CODES do not change.  If you have ever had an autopatch code for 145.15 or an autodial code for 146.925, it should still work.  Some features have been added or dropped in the last few years.  If you need a new code sheet, or have problems, please contact Neil ASAP. 
YOUR COMPLETE HAM INFO SOURCE IN THE TRI-STATE is the EARS Web page!!! And now, we offer FREE E-Mail!  The new address is: http://w9ear.org.  You can sign up for free email in the top right corner, just click on New User.  Your address will be the user name that you pick followed by @w9earDOTorg. 
VE information is updated DAILY.  We list a wide range of testing opportunities all throughout Indiana, Illinois, and Kentucky.
DONATIONS can now be accepted on the web site thru X.com's PayPal service.  Just click on "How to Support EARS", or click on the Donate button on the front page.  Also, if you sign up for a PayPal account using the button on the support page, EARS receives a $5 donation from PayPal.
Please visit our web sponsors at the bottom of the page.  EARS will receive a donation if you look at about.com thru our site, or make a purchase from any of the other businesses, like 800.com electronics.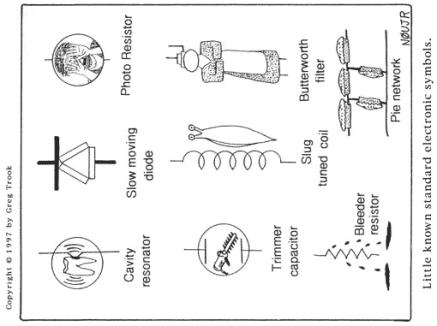 The E.A.R.S. newsletter is a monthly production of Electronic Applications Radio Service, Inc., a non-profit, tax-exempt organization.  Neil Rapp, WB9VPG, editor.  Send donations, articles, comments or information to the address above or call (812) 333-4116.  Articles for the newsletter and/or E-mail can be sent to ears@w9earDOTorg. Information contained may be reproduced, provided that credit is given to the EARS newsletter.
(Cartoon courtesy N0UJR)
Join E.A.R.S. Today!
For more information or to support the E.A.R.S. Wide Area Repeater Network and other E.A.R.S. repeaters, write: 2744 Pinehurst Drive, Bloomington, IN 47403 or email: ears@w9earDOTorg.