Don't miss the 21st annual

Evansville Hamfest

Talk-In on 145.150 Repeater, - offset, tone 136.5
Pre-Hamfest Breakfast!! The best biscuits and gravy you've ever had at a hamfest! Serving starts at 7:00 am Central, one hour before the hamfest opens. Biscuits and gravy will be served until they are gone! Meet your friends for a fantastic breakfast before the hamfest. (No one will be allowed on the hamfest floor until 8:00 am except vendors. No exceptions!)

Lunch Menu!
Coffee and soft drinks available all day!
Meet your friends at the hamfest!
Vendor and Flea Market Information:

Flea Market Tables (8'):
$15.00 each


EARLY BIRD SPECIAL!!!
$12.00 for each table if money is received by November 1

All Reservations MUST be pre-paid

Wall Tables for Annual Commercial Vendors Only - SOLD OUT
(for many years to come!)

ALL INDOORSPal <!/div> <!/form>

Setup times:
3:30 to 7:30 p.m. Friday;
6 to 8 a.m. Saturday
(all times Central)

<!form action="https://www.paypal.com/cgi-bin/webscr" method="post"> For table reservations or information, contact Neil WB9VPG at: (812) 333-4116; Or Write: Neil Rapp, 2744 Pinehurst Drive, Bloomington, IN 47403; Or E-mail: ears@w9earDOTorg (Be sure to change the letters DOT to a dot! This is to keep spammers out!)

ro

ugh Pay
An

ARRL

Affiliated Hamfest
Corporate Sponsor:
Other expected commercial vendors include:

Tower Electronics | DC Ace | Amateur Accessories
D & L Antenna | Transel Technologies | KJS Marketing
Select Computer Resources | A1 Rechargers | Rainbow Kits | Debco Electronics
COD Graffix | Sign Man of Baton Rouge | S&G Engineering (Eagle One Antenna)


Prize sponsors include:




During the hamfest, local time is CST!
Click here to see the current time.
---
Click here for a hotel listing (with directions!)
Coordinates: 38-05-31.10 N | 87-33-41.41 W
Address: 202 E. Boonville-New Harmony Rd
. (see interactive map below)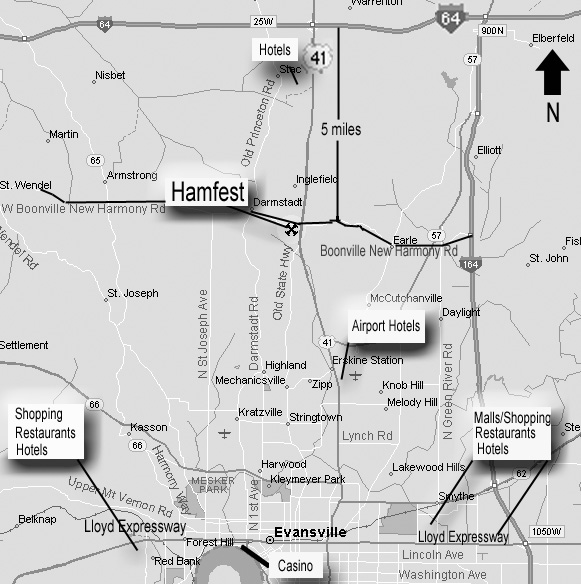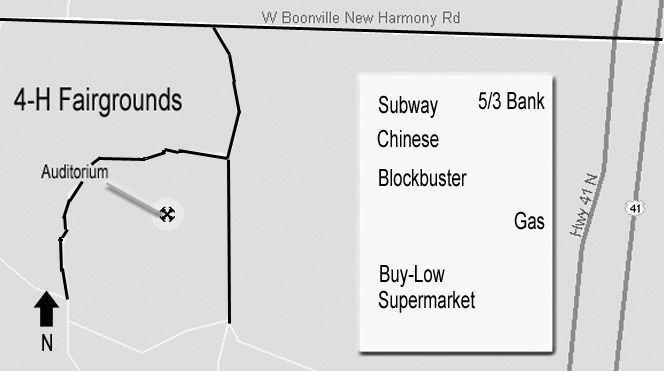 Directions: The 4-H Fairgrounds is located on US Hwy 41 at Boonville-New Harmony Road, a couple of miles north of the Evansville Airport. There is a Buy-Low supermarket shopping center, a CVS pharmacy, and several banks at this intersection.
From South: Take US 41 North to light at Boonville-New Harmony Road 2 miles past the airport, turn left at light. (Note sign for 4-H Center on US 41)
From North: Take US 41 South to light at Boonville-New Harmony Road about 5 miles south of Interstate 64, turn right at light. (Note sign for 4-H Center on US 41)
From I-69 (from Northeast): Take I-69 South to I-64 (Exit 21B). Then, take I-64 West to US 41 (Exit 25A). Take US 41 South to light at Boonville-New Harmony Road about 5 miles south of Interstate 64, turn right at light. (Note sign for 4-H Center on US 41)
From East and West: Take Interstate 64, turn south on US 41 (Exit 25A). Take US 41 South to light at Boonville-New Harmony Road about 5 miles south of Interstate 64, turn right at light. (Note sign for 4-H Center on US 41)
Attendance in 2012: 372; all tables sold out 10 weeks prior to hamfest
Attendance in 2011: 389; all tables sold out 4 weeks prior to hamfest
Attendance in 2010: 396; all tables sold out 8 weeks prior to hamfest
Attendance in 2009: 444, all tables sold out 7 weeks prior to hamfest
Attendance in 2008: 398, all tables sold out 2 weeks prior to hamfest | Newspaper article | TV news clip
Attendance in 2007: 408, all tables sold out weekend before hamfest
Attendance in 2006; 444, all tables sold out day prior to hamfest | Newspaper article
Attendance in 2005; 465, all tables sold out day prior to hamfest
Attendance in 2004: 456, only 12 tables remained *** new expanded setup with more tables
Attendance in 2003: 484, all tables sold day prior to hamfest
Attendance in 2002: 565, only 6 tables remained
(click above for pictures)
Attendance in 2001: 432, all tables sold out prior to hamfest
Attendance in 2000: 367, all tables sold out evening before hamfest
Attendance in 1999: 475, all tables sold prior to hamfest
Attendance in 1998: 488
Attendance in 1997: 450, all tables sold day of hamfest
Attendance in 1996: 511, all tables sold day of hamfest
Attendance in 1995: 515, all tables sold day of hamfest
Attendance in 1994: 552, all tables sold prior to hamfest
Attendance in 1993: 532
Hamfest Staff:
Chairman/Table Reservations.............................Neil Rapp WB9VPG
Assistant Chairperson/Hospitality....................Tina Froedge KY4TLF
Assistant Chairman...........................................Eric Bonham N9KDB
Corporate Sponsor/Prizes.................................Dan Mitchell N9APA
VE Testing.........................................................Jim Turner WB9PZB
Concessions..................................................Old Post ARS W9EOC
Security.........................................................Amarc Security Services