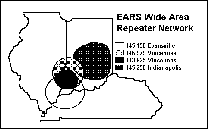 E.A.R.S.
1506 S. Parker Dr.
Evansville, IN 47714
(812) 479-5741
"Because a frequency..
..is a terrible thing to waste"
An ARRL Special Service Club
Member Indiana Repeater Council, Illinois Repeater Association, and
Indiana Radio Club Council
---
W9EAR Summer, 1998 Newsletter W9EAR
THE NEXT E.A.R.S. EATING MEETING will be held at Old Country Buffet, in Eastland Shoppes near Morgan and Green River Road in Evansville, on Friday, September 4 at 6:30 p.m.
WE NEED YOUR HELP! With all the recent renovations of the 443.925, 146.925, 145.150, and 145.110 repeaters in the past few months, the EARS bank account is now entirely depleted. The last donation should be shown on your address label. If you haven't donated in a while, now is your chance. We continue to offer all repeater and autopatch services free of charge to all amateurs, and will continue to do so as long as the bills are paid. Also, we thank the great number of those who have contributed recently, including Del & Margie Rapp WB9UKG/WD9HEE.
REPEATER NEWS... for the latest information, check the EARS web site.
145.11... Waiting on an antenna, and the return of the duplexers from the 2-way shop.
145.15... The renovations are almost complete! Lots has happened in the past month. Thanks for Eric N9KDB, Dan KB9SVE, Dan KB9KCF, Mel N9IZG, and Pete WB9DRB for all of their help on this project. The new Spectrum exciter has been installed. The remaining feed lines have been moved into the building. The new 120 watt solid state amplifier was installed on August 25, the day it came in after being on order since April. The main receive site (located near the Posey-Vanderburgh Co. line... the old 145.11 site) has been restored after a lightning hit, and a back-UPS power unit installed. Mel and Pete did some tower work at the transmit site, re-orienting some beams to eliminate noise on the link from the receive site to the transmit site. We still have to raise one of the beams another 20' or so, and work on the audio equalization. While 145.15 isn't putting out as much power as a couple of years ago (250 watts), it seems to be getting out about as well. The drop in wattage is a disadvantage, but the amplifier being solid state will make it much more reliable and easier to repair. The next projects are to repair the voter, so that the receiver at the transmit site can be added (allowing local access without PL) and so that the Petersburg and other outlying receivers can be added in. 145.15 is the last site out of 145.25, 146.925, 443.925, and 145.11 to be brought up to all solid state equipment (except for the 250 watt amps... that's impossible.)
443.925... The only thing not working is the Indianapolis link to 5.25, which still requires work at Seymour.
146.925... 107.2 CTCSS decode is now available, after the return of the exciter in July.
145.25... After going a week after repair, the repeater went back down from equipment damaged from the July lightning strike. I hear it is back on now. MCARS is working on programming autopatch codes for the repeater. Be sure to read the MCARS news in this newsletter for more information about 145.25.
147.135... still operating with an input of 144.65 from near Seymour. There is apparently a problem with the UHF link from Seymour back to Indianapolis for the receive site there, so traffic through this receive site is not working.
UPCOMING HAMFESTS:
Saturday, September 19, 8 am - 5 pm EDT Louisville, KY at the KY Fair and Expo Center. Talk in on 146.28/88. www.thepoint.net/~GLHA
Saturday, November 28, 8 am - 2 pm CT Evansville, IN 4-H Fairgrounds Expo Bldg. Talk in on EARS Network! http://members.aol.com/earsham
The EARS Evansville Winter Hamfest had been put on hold for financial reasons, and the drop in vendors and attendance last year. Thanks to corporate sponsorship from The Ham Station, and the last minute availability of a smaller building at the 4-H Center, the hamfest is indeed back on schedule!! We will need help with flyers and donations of prizes as always. See Neil for more information.
EARS E-mail: EARSHAM@aolDOTcom
Web: http://members.aol.com/earsham
---
VE TESTING INFORMATION:

EARS does not sponsor VE testing, but does list area testing dates and times. If you know of a test not listed, please write, call, or e-mail it to Neil ASAP!!!

Evansville, IN - Sat. Aug. 29 and Sat. Sept. 26; 9:00 a.m.... Red Cross Bldg., Diamond and Heidelbach, by Tri-State ARS. ARRL-VEC. Contact Terry AA9MM (tbrooks@ evansville.net).

Evansville, IN - Tuesday, September 29; 7:00 p.m. at Harrison High School, Room 213. W5YI-VEC. Contact Neil WB9VPG 812-479-5741.

Paris, IL - Sunday at 1pm at the Community Hospital on Sept. 6. Call John Welch at (217) 466-4315 or email jwwelch@juno.com.

Terre Haute, IN - Sunday at 1pm on Oct. 4 at the Terre Haute Red Cross on Hwy 41 North. Call Fred K9EBK at (812) 466-2122.

Indianapolis, IN - IPL, 37th and Arlington, at 6:30 p.m. BY APPT. ONLY. Call Tom N9LFU at 317-326-3168. Thomson ARC/ARRL-VEC

Franklin, IN - Walk-ins only. For more information, call 317-974-1488. MidState
ARC (3rd Sat. March thru November)

HAVE YOU FILED FORM 606 (TIN registration)? The FCC now requires all existing license holders to file this form as soon as possible. "The form must be submitted before the license holder files any subsequent applications associated with the existing license", according to the directions on the form. Basically, your Social Security Number is associated with all callsigns, in the event you should owe the government. Other info includes, name, address, phone, e-mail address if any, and any/all callsigns. You can either fill out the form by hand or electronically on the FCC web site at www.fcc.gov/wtb/uls. For assistance with this application, or to order a copy of the form call 1-888-CALL-FCC.

NEWSLINE NEEDS YOUR HELP TOO! As you may have heard on Newsline a few weeks ago, Newsline is again in severe financial difficulty. Each year, EARS takes a donation at at the hamfest, and adds to it. But, if you would like to make a personal donation, send it to the Newsline Support Fund c/o Andy Jerima N6TCQ, PO Box 660937, Arcadia, CA 91066.

SPREAD THE WORD!!! THE EARS WIDE AREA NET MEETS MONDAYS AT 8:30 PM CENTRAL ON THE W9EAR REPEATER NETWORK! After check-ins, we play Newsline, a weekly Amateur Radio News & bulletin program. Have you heard about the FCC proposing a new license class structure? Have you heard the ARRL's proposal? Have you heard about the possibility of dropping code requirements for some classes? If not, you would have had you checked in and listened to Newsline!! Make it a habit... Monday nights at 8:30 p.m. Central. (To catch up on what you missed, the Newsline articles are in print at www.arnewsline.org)

A NEW EARS NETWORK MAP is now available on the web site, as well as other EARS information, this newsletter, and other important ham radio information. Log on at http://members.aol.com/ earsham.

Drex Stuart, N9CIA/HH5SD, is looking for an HF tuner and a directional HF antenna cut for approx. 5.7 MHz for use by missionaries in Haiti. Contact Drex or Neil for information. Also, Harrison H.S. ARC is still looking for a dual band mobile.

---

The E.A.R.S. newsletter is a monthly production of Electronic Applications Radio Service, Inc., a non-profit, tax-exempt organization. Neil Rapp, WB9VPG, editor. Send donations, articles, comments or information to the address above or call (812) 479-5741. Articles for the newsletter and/or E-mail can be sent to EARSHAM @aolDOTcom. Information contained may be reproduced, provided that credit is given to the EARS newsletter.

---

Marion County Amateur Radio Club (MCARS) News...

(this month by Neil WB9VPG)

Last year, an arrangement was made for MCARS to take over the operations of the 145.25 repeater. After an agreement was passed at the July MCARS meeting, MCARS will now assume all programming of the 145.25 repeater. A meeting which shortly followed with Mike Carmer KB9RBF (MCARS Vice President), member Tim Staker KB9FRR, and Neil Rapp WB9VPG. Mark McKinney W9MSM (MCARS President) was unable to attend due to illness. Mike, Tim, and Mark will be responable for the programming of the repeater, and have been trained to do so. They have already cleared out a lot of the old programming. Mike has been working on programming autopatch codes for those who are paid up with EARS for the Indianapolis repeater, and control operators. Soon, MCARS will add autopatch codes for members. The fee will remain $20. However, $10 of each $20 paid will go to MCARS to assist in promotion and upkeep of the 145.25. $10 will go to EARS to assist with hardware upkeep and newsletter expenses. No matter if you send your $20 dues to MCARS or EARS, the $10 split will be forwarded by each organization accordingly. This MCARS news section will appear in future EARS newsletters, and will be written by an MCARS editor yet to be named. This way, more news of interest to folks on the 145.25 will be directly placed in the newsletter. This partnership will benefit both organizations greatly with support and upkeep of all the repeaters. MCARS is a sister organization to EARS by choice, but yet keeps its own autonomy. MCARS will issue all control operator and user codes for the 145.25 from now on. EARS will still be responsable for the physical upkeep of the hardware, and the ownership of the repeater. All current EARS memberships for the 5.25 autopatch will be honored by MCARS for the remaining of their duration. MCARS control operators will also receive codes for the other EARS repeaters. For more information, you can contact Mark McKinney W9MSM at msmckiny@ freewwweb.com or Mike Carmer KB9RBF at newtech@indy.net.

MCARS Net:
Monday nights at 8:00 p.m. EST
on 145.25 repeater

MCARS Web Site:
http://www.bromac.com/mcars

MCARS E-mail:
mcars@bromac.com

MCARS Mailing Address:
2360 S. Meridian St.
Indianapolis, IN 46225

Phone:
Mark W9MSM at 317-788-7448

MCARS meetings:
1st Tuesday of the month
7:00 p.m. EST
In the basement of Friendship Apostolic Church, 2360 S. Meridian St., Indianapolis.

---
6th Annual E.A.R.S. & Ham Station
Evansville Winter Hamfest
Saturday, November 28, 1998
8 a.m. - 2 p.m. Central Time
Vanderburgh County Fairgrounds Exposition Center
(New building this year!!)
Talk in on EARS Wide Area Repeater Network
145.150- Evansville / 146.925- & 443.925+ Vincennes
(Alternate: EARS Repeater 145.110 -)
Use 107.2 CTCSS on all frequencies listed!
Free Parking Table Space Available All Indoors
Indoor Flea Market Commercial Dealers GREAT FOOD!
For table reservations or information, contact Neil WB9VPG at (812) 479-5741
Or Write: EARS, 1506 S. Parker Dr., Evansville, IN 47714
Or E-mail: EARSHAM@aolDOTcom
Hamfest Web Site: http://members.aol.com/earsham/
Setup begins at 6 a.m. Central Time on Saturday
Corporate Sponsor: The Ham Station
220 N. Fulton Ave., Evansville, IN 47710
(812) 422-0231 or www.hamstation.com